The National Mall or 'The Mall' is a long strip of green surrounded by museums and monuments. It stretches for over 2 miles/3 km from the Lincoln Memorial on the western border to the US Capitol on the east.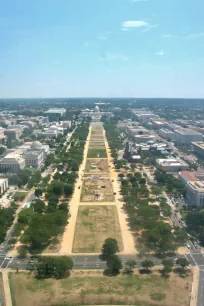 Pierre l'Enfant's vision
The Mall was originally envisioned by French engineer and city planner Pierre Charles l'Enfant as a grand 1.5 mile long boulevard bordered by Parisian style houses. The plan was never realized as such, and in the nineteenth century the open space was a muddy area used for markets and the exhibition of exotic animals. Until the opening of the Union Station, it also contained a railway station and tracks.
1902 Plan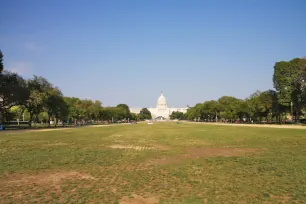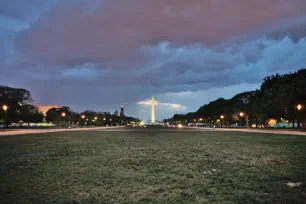 In 1902 a plan by the McMillan Commission for 'improvement of the park system in the District of Columbia' designated the mall as a green area surrounded solely by museums and scientific buildings. The green strip, situated between the US Capitol and the Washington Monument, was lined on either side by Elms, trees already used on the grounds around the Capitol. Park-like roads were created on either side of the green strip.
The area on the west side of the Washington Monument was planned as a parkland, with at its center a long pool and ending at the Lincoln Memorial, at the time still in planning phase.
The creation of the National Mall resulted in a central axis of museums, monuments and memorials. The east part between the Ulysses S. Grant Memorial and the Washington Monument is often considered the 'proper' part of the mall and is lined with grand museum buildings. The west part, the location of the Constitution Gardens, is home to numerous memorials.
Mall Attractions
Below an overview of the most important attractions found along the Mall, from east to west:
National Museum of Asian Artwork
National Museum of African American History and Culture
DC War Memorial
Memorial to the signing of the Declaration of Independence
Near the Tidal Basin:
George Mason Memorial
John Paul Jones Memorial