National Museum of Natural History is generally regarded as one of the finest museums of its kind in the world. Like other Smithsonian Museums, entrance is free of charge.
A Brief History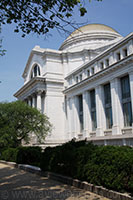 The green-domed National Museum of Natural History opened in 1910 and was an original part of the 1901 McMillan Plan, an architectural plan for the development of Washington D.C. that focused on the area around the National Mall.
The exterior of the museum was designed by the renowned architects Daniel Burnham and Charles McKim, who chose a grand Beaux-Arts style which had become very popular since the World's Columbian Exposition of 1893 in Chicago. The remainder of the museum was designed by architects Hornblower and Marshall, a Washington D.C.-based partnership, who were most concerned with providing as much natural light as possible in order for visitors to enjoy exhibitions that portrayed the natural world.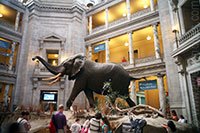 Rotunda
An east wing and west wing were opened in 1964, designed by architectural firm Mills, Petticord, and Mills. Five years later, the name of the museum changed from the Museum of Natural History to the National Museum of Natural History, making it "the people's natural history museum".
The Design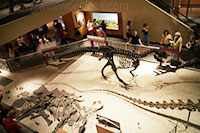 Hall of Dinosaurs
The building has an octagon-shaped rotunda; its dome is visible from many parts of the city. A large portico entrance with Corinthian columns leads to the rotunda, which is decorated with columns of two different styles – Doric on the first floor and Ionic on the second and third floors. A "clerestory" – an upper level with semicircular windows – sits above the third floor. These were common in Romanesque and Gothic cathedrals.
The two added wings are each six stories tall. The second, fourth, and sixth floors connect directly to the main museum and the sixth floor is set back.
Inside the Museum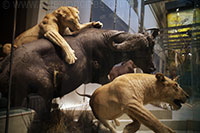 Hall of Mammals
A variety of displays and collections can be enjoyed by visitors to this free museum. As a matter of fact, the National Museum of Natural History boasts one of the finest collections of gems and minerals in the world, including the 45.52 carat Hope Diamond and the Star of Asia sapphire.
Kids and adults both love the Hall of Dinosaurs, with its collection of forty-six complete fossilized dinosaurs. Be sure to check out the "fight" between the Tyrannosaurus Rex and the Triceratops. The Hall of Mammals boasts the largest collection of vertebrate specimens in the world, more than twice the size of the next largest collection, the museum claims.
There are also several exhibits on the waters of the world and sea life in general, as well as botany and anthropology displays and an IMAX theater.