The classical Gothic style of Washington's National Cathedral makes it look as if this magnificent structure was built somewhere in Europe during the Middle Ages. In fact, the cathedral was only finished as recently as 1990.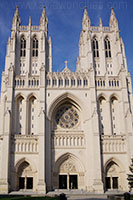 West facade of the
National Cathedral
Already in 1792, city planner Pierre l'Enfant envisioned the construction of a national church on a site now occupied by the National Portrait Gallery. A century later, in 1893, Congress allowed the Protestant Episcopal Cathedral Foundation of the District of Columbia to erect a cathedral. In 1896, a 57 acre (23 ha) plot on Mount Saint Albans was chosen as the location for the new cathedral.
Construction
Construction started in 1907, but was interrupted during the first World War. When construction resumed, the original architects Frederick Bodley and Henry Vaughan had passed away.
American architect Philip Hubert Frohman took over from 1921 to 1972. He is considered the principal architect of the cathedral. Construction halted again during the Second World War and in 1977, when the foundation, which collected funds from gifts and donations, ran out of money. By that time, the central tower and the nave were already completed.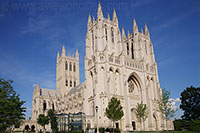 Washington National Cathedral
In 1980 works resumed; in 1982 the Pilgrim Observation Gallery – which offers great views over Washington – was opened and one year later construction of the West towers started. Finally, in September 1990, 83 years after construction started, the last stone was put in place
The Cathedral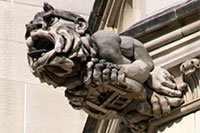 Gargoyle
The cathedral, officially known as the Cathedral of St. Peter and St. Paul, is 301 ft (92 m) high and 517 ft (158 m) long. The West towers reach 234 ft (71 m). During construction of the limestone building, the use of concrete and structural steel was kept to a bare minimum. Instead, medieval techniques like ribbed vaulting and flying buttresses were used.
Decorations

Rose Window
The National Cathedral is elaborately decorated with both religious and national motifs. One of the carvings even depicts Darth Vader from Star Wars. And one of the cathedral's 215 stained-glass windows is the famous 'space window', commemorating the first landing on the moon. The largest stained-glass window is the north rose window, measuring 26 ft/8 m in diameter. The cathedral also contains 110 gargoyles, carved creatures leading water from the gutter away from the walls of the building.
Presidential Funerals
Funeral services for American presidents Woodrow Wilson, Dwight Eisenhower and more recently Ronald Reagan were held in the National Cathedral. It was also the location of the last Sunday sermon by Martin Luther King, Jr. before his assassination in 1968.
Tours
The National Cathedral is located on Mount St. Alban at Massachusetts and Wisconsin Avenues. It can be visited daily and tours are available. Check out the cathedral's website for exact visiting and tour hours.