The Martin Luther King Memorial is a large open-air memorial erected in 2011 in honor of Civil Rights activist Martin Luther King, Jr. The central monument was inspired by King's famous 'I Have a Dream' speech, which he delivered in 1963 at the nearby Lincoln Memorial.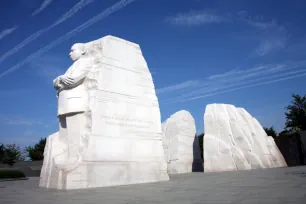 Martin Luther King, Jr.
In the mid 1950s, Martin Luther King, a pastor at a Baptist church in Montgomery, Alabama, became a prominent spokesman of the African-American Civil Rights Movement. Inspired by Gandhi, he believed in non-violent activism and organized boycotts and rallies against segregation. This approach was successful as it led to several new pieces of legislation, in particular the Civil Rights Act of 1964, which outlawed discrimination against racial minorities. Martin Luther King was awarded the Nobel Peace Prize that same year for his peaceful activism. On April 4, 1968, King was assassinated in Memphis, Tennessee.
Building the Memorial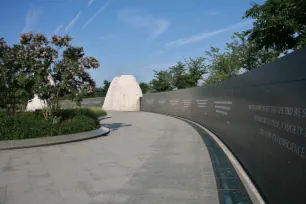 In 1952, while studying theology at Boston university, King became a member of the Alpha Phi Alpha, an intercollegiate fraternity for African Americans. In 1984 members of the fraternity launched the idea of a national memorial for King. More than a decade later, in 1996, Congress authorized Alpha Phi Alphia to establish such a memorial in Washington, DC.
In 1999, a prominent site at the Tidal Basin, on an axis between the Jefferson Memorial and the Lincoln Memorial, was selected as the location for the new memorial. A design by the San Francisco-based ROMA Design Group was selected out of nine hundred entries submitted by architects and designers from around the world. Construction of the monument began in December 2009 and it was finally dedicated on October 16, 2011.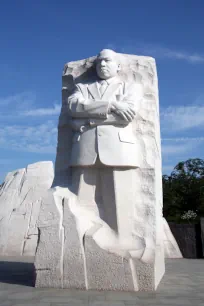 The Monument
The centerpiece of the memorial is a large monument in white granite, the concept of which was inspired by a line from Martin Luther King's famous 'I Have a Dream' speech: "We will be able to hew out of the mountain of despair a stone of hope".
Visitors enter the memorial plaza through an opening in the 'Mountain of Despair'. Seemingly pushed forward out of the mountain stands the Stone of Hope, with a 30-ft-tall (9.1 m) statue of King. The lifelike statue, created by the Chinese sculptor Lei Yixin, portrays the Nobel Prize Winner looking straight ahead with his arms crossed. The statue seems to be incomplete, as if symbolizing the fact that King died too young, long before his mission was completed. Carved in the sides of the statue are two quotes from King's 'I Have a Dream' speech.
Fourteen more quotations from other speeches and writings by king are inscribed on a 450-foot-long (137 m) dark granite wall that curves around the Stone of Hope. These quotations, selected by a council of historians, reflect King's ideals of democracy, hope, justice and love.