In 1912, four years after Washington DC's magnificent Union Station opened to the public, the plaza in front of the station was embellished with a monumental fountain dedicated to Christopher Columbus.
The Fountain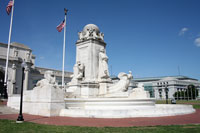 Columbus Memorial Fountain
The fountain was created by the American sculptor Lorado Taft after a design by Daniel Burnham, a Chicago-based architect who took inspiration from a boat-shaped fountain at Chicago's 1893 World Fair, an exhibition that celebrated the four hundred year anniversary of Christopher Columbus's arrival on American shores.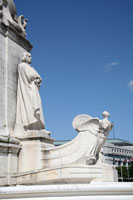 Christopher Columbus
The marble fountain prominently features the famous explorer, whose effigy stands on the prow of a ship. Columbus stands upright with his arms folded and stares ahead determinedly. The prow ends in a winged figurehead that symbolizes Discovery.
Behind the explorer rises a massive pedestal 45 ft (14 meters) high. The pedestal, surmounted by a huge globe supported by four eagles, is flanked by two semi-nude figures. The figure on the left of a Native American represents the New World. A bearded man on the right of the pedestal represents the Old World. A relief on the rear side of the pedestal depicts the Spanish King Ferdinand and Queen Isabella. The fountain is guarded by two couchant lions.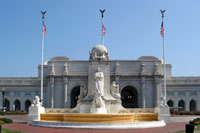 The fountain in front of
Union Station
The Beaux-Arts railway station behind the fountain forms a monumental backdrop for the fountain, which seems to seamlessly integrate into the station's architecture; from afar it even seems as if the fountain is a mere ornamental part of the station's facade.
The Plaza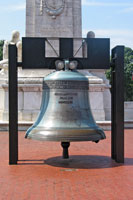 Freedom Bell
The fountain is the centerpiece of the semicircular Union Station Plaza. The plaza was designed by Daniel Burnham as the forecourt of the new railway station complex. Aside from the Columbus Memorial Fountain, the plaza is also embellished with three massive flagpoles which represent the three vessels that Columbus took with him on his first voyage across the Atlantic: the Santa Maria, Niña and Pinta. Each flagpole is crowned with a bronze eagle resting on a globe.
Not everything on the plaza is Columbus-themed. Right behind the fountain you can see a replica of Philadelphia's Liberty Bell. Named "Freedom Bell", this bell was cast in 1975 and is twice the size of the original. The American Legion, the organization that funded its construction, hoped that the bell would be installed on the National Mall. Instead, the bell ended up here on Union Station Plaza, where it was dedicated in 1981.