Washington D.C.'s Kennedy Center for the Performing Arts has hosted some of the world's most renowned performers.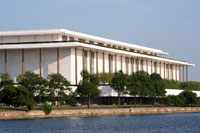 Kennedy Center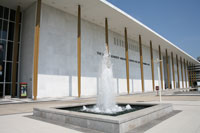 West facade
Opened in 1971, the Kennedy Center has been the centerpiece of the Washington D.C. cultural and arts scene for the past 40 years. Situated on 7 hectare / 17 acres on the Potomac River, it serves as a living memorial to President John F. Kennedy and is designated the busiest arts center in the nation.
History of the Kennedy Center
Though the Kennedy Center is named in tribute to Pres. Kennedy, the idea for such an arts center actually originated with Pres. Dwight Eisenhower, who proposed that the center accommodate both classical and contemporary performances and that it would be a self-sustaining facility that is privately funded and not government-owned.
Kennedy, upon his presidency, became a major fundraiser for the venue that would eventually bear his name. He also appointed Roger L. Stevens as chairman of the center, a dedicated man who stayed for thirty years and made the Kennedy Center what it is today. Stevens saw to it that the first performance at the venue was a Requiem mass in homage to JFK, written and conducted by famed New York Philharmonic leader, Leonard Bernstein.
Architecture and Theaters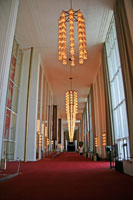 The lobby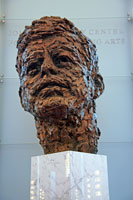 Bust of JFK
The designer of the Kennedy Center for the Performing Arts was Edward Durrell Stone. Stone included a 192 meter long, 19 meter high (630 x 63 ft) grand foyer that is the centerpiece of the venue, complete with rich red carpeting and amazing crystal chandeliers. On the first floor, the main theater – The Opera House – is situated in the center and there are two additional theaters on the sides – the Eisenhower Theater and the Concert Hall.
The Opera House seats 2,300 and includes lots of rich red velvet. Renovated in 2004, it is home to the Washington National Opera and is the site of the annual Kennedy Center Honors ceremonies. The Concert Hall seats 2,400 attendees and is modeled after typical European music halls. It houses a 2,000-pipe organ. The Eisenhower Theater is more intimate, able to seat about 1,200 guests. It is the favored location for ballet and other dance performances as well as small-scale operas and musicals.
There are several additional performance venues inside the Kennedy Center include the 324-seat Family Theater, hosting kid-friendly performances and the the 500-seat Terrace Theater; The Theater Lab; the Millennium Stage and the KC Jazz Club, hosting intimate jazz performances.