The Phillips Collection proudly proclaims to be the first museum of modern art in the US. The museum's collection is housed in the former home of its founder, Duncan Phillips, who had a penchant for impressionist art.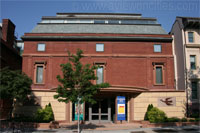 Phillips Collection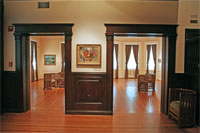 Museum interior
Duncan Phillips was a member of a successful business family – his grandfather was a banker and co-founder of the Jones and Laughlin steelworks – and started collecting art at a young age.
History of the Museum
After his father and brother died in short succession, Duncan turned to his love of art. In 1921, in memory of his late father and brother, he created the Phillips Memorial Gallery in a room of his parental home. During the 1920s, Duncan and his wife Marjorie acquired many new works, including the museum's most famous painting: the 'Luncheon of the Boating Party' by Renoir, which Duncan purchased in 1923 for the then huge sum of $125,000. In 1930 the Phillips family moved out of their mansion so that the entire house could be used as a museum with room for galleries, an office and an art studio. In 1960 the museum opened to the public as the Phillips Collection.
The Building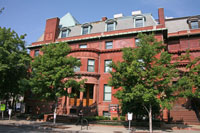 Duncan Phillips's former residence
Today, the museum occupies several buildings on 21st Street near Dupont Circle that are connected to one another. The original home bordering Q Street was built in 1897 for Duncan's father. It was designed in Georgian Revival style by architects Hornblower and Marshall, who created a red brick mansion with a semicircular portico. Over the years, several annexes were built to provide more space for the ever-growing collection; at present, the museum owns over 3,000 works of modern art.
The Collection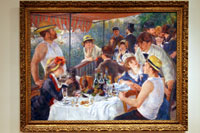 Luncheon of the Boating Party
(Pierre-Auguste Renoir)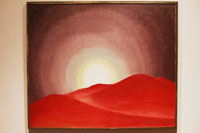 Red Hills, Lake George
(Georgia O'Keeffe)
Many of the works in the Phillips Collection reflect the personal tastes of Duncan Phillips and his wife, Marjorie Acker. Easily the most famous work is Renoir's 'Luncheon of the Boating Party', a magnificent painting created in 1880-1881 by the French impressionist Pierre-Auguste Renoir. The museum also owns works from many other famous European artists including Cézanne, van Gogh, Monet, Degas, Matisse, Bonnard, Mondriaan, El Greco and Picasso. Some highlights include Edgar Degas's 'Dancers at the Barre', Vincent van Gogh's 'The Road Menders', Pierre Bonnard's 'The Open Window' and El Greco's 'The Repentant St. Peter'.
The museum also holds a sizeable collection of American works. One of the highlights is a series of fifty-nine paintings entitled "The Migration of the Negro" And a whole room is dedicated to the abstract paintings of Mark Rothko. Other well-known artists represented include Willem de Kooning, Georgia O'Keeffe and Alexander Calder.