The wonderful National Portrait Gallery presents an amazing array of paintings of famous Americans from all walks of life.
The Building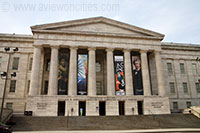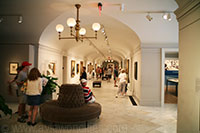 Inside the Museum
Situated in a nineteenth-century structure originally designed to house the U.S. Patent Office, the National Portrait Gallery of the Smithsonian Institution shares facilities with the Smithsonian American Art Museum. Though it has undergone extensive renovation during the last one hundred years, it is still considered one of the best examples of Greek Revival architecture in the country. It took about thirty years to complete it in its entirety, with construction beginning in 1836 and ending in 1867.
The building was renovated several times, first from 1958 until 1968 and later from 2000 until 2006. The museum building now features a central covered courtyard where you can relax or have a snack.
Museum Collection
The National Portrait Gallery boasts an extensive collection of about 20,000 portraits done in a variety of mediums including paintings, sculpture, prints, drawings, and photographs. The collection is like a catalog of Americans who had an impact on the country or its culture.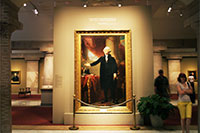 Hall of Presidents
Of particular note is the permanent exhibit entitled "America's Presidents", including the famous Lansdowne Portrait of George Washington, painted by Gilbert Stuart. Recently the museum added a modern portrait of president Barack Obama, known as the 'Hope Portrait' and created in 2008 by American artist Shepard Fairey.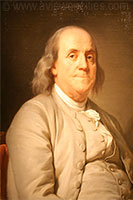 Benjamin Franklin
The museum also has a large section of portraits from Colonial America, the American Revolution and the Civil War with portraits from prominent figures such as Robert E. Lee and Ulysses S. Grant.
Other permanent exhibits include galleries of "Twentieth Century Americans", a "Champions" gallery featuring sports figures who made an impact on the nation, and "Bravo", showcasing performers and composers of the early twentieth century to the present. Temporary exhibits are frequently displayed here as well and often stay in place as long as a year.