The Smithsonian American Art Museum is home to the nation's oldest collection of American Art.
Old Patent Office Building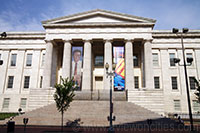 American Art Museum
The American Art Museum is housed in a nineteenth-century landmark building, originally built for the US Patent Office. The Patent Office moved out in 1932 and the building became the home of the Civil Service Commission. It was slated for demolition in the 1950s but local opposition saved the historic building from the wrecking ball.
A renovation started and in 1965 the monumental building in Greek Revival style became a National Historic landmark. It reopened in 1968 as a museum. Two actually, as both the American Art Museum and the National Portrait Gallery are housed in the historic building.
The Museum's collection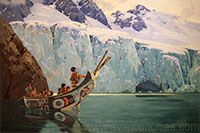 The Chief's Canoe,
Belmore Browne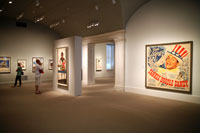 Movie Posters
The American Art Museum was the country's first collection dedicated to American art. It opened in 1929 with a collection from several private donations. Today, the museum is part of the Smithsonian Institution and boasts a collection of more than forty thousand artifacts spanning more than three centuries.
Exhibits in the American Art Museum display more than three thousand paintings, sculptures and other works of art, spread out over three floors. The collection covers works by American artists from the colonial era up to today.
One of the exhibitions features American folk art with some self-made objects made from all kinds of materials, such as a giraffe made from bottle caps. Another notable work was crafted by James Hampton, a janitor who secretly created objects made from household material. Named "Throne of the Third Heaven of the Nations' Millennium General Assembly", it resembles some medieval religious object.
The museum also boasts a large collection of nineteenth-century and early twentieth-century paintings from American artists such as "The Chief's Canoe", a work by Belmore Browne, one of America's pre-eminent wildlife painters.

Achelous and Hercules, Thomas Hart Benton
Another typical example of American art is Thomas Hart Benton's "Achelous and Hercules". Painted in 1947 for a Kansas City department store, it is based on a mythological story and full of symbolism. Other twentieth-century artists featured in the museum's collection include Georgia O'Keeffe with her 1932 work "Manhattan", Edward Hopper's "Cape Cod" and several works by Andy Warhol.