The Old Patent Office building is a nineteenth-century national historic landmark and one of the city's finest examples of Greek Revival architecture.
History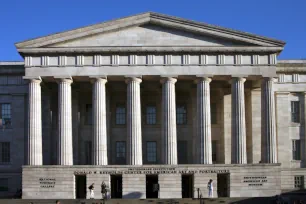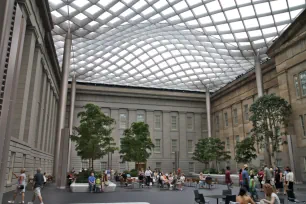 In 1836 President Andrew Jackson authorized the construction of a building to house the United States Patent Office. Construction of the building started in 1836 on the South Wing that same year, and though it wasn't completed until 1842, the Patent Office moved there in 1840. It housed patent models for public displays as well as historical, art, and scientific collections. The Declaration of Independence was also once kept on display there. The building served as a patent office until 1932.
When the patent office moved out the Civil Service Commission moved in. However, the building was slotted for demolition by 1950 due to its increasingly poor condition. Concerned citizens stepped in and in 1955 President Eisenhower decided to spare the historic building. It was turned over to the Smithsonian in 1958 which made it the new home of the American Art Museum and National Portrait Gallery.
Architecture
Though only part of the original structure is still standing, the building remains one of the finest examples of Greek Revival architecture in the United States. It is fashioned from sandstone and freestone from nearby Virginia and marble and granite from Maine, Massachusetts, Connecticut, and Maryland. Inside, it boasts a grand double curved staircase and many other ornate, ornamental touches.
Technically, the only part of the building that still exists as originally built is the east wing. Nonetheless, in 1965, the Old Patent Office Building was declared a National Historic Landmark. During this time, a huge renovation project was taking place, completed in 1968, when the two museums started to display their collections here. Another renovation took place from 2000 to 2006, restoring the building to its original splendor. A beautiful central courtyard opened in 2007.
Museums
The former US Patent Office building is home to the
American Art Museum
and the
National Portrait Gallery
. Both Smithsonian Museums are now known collectively as the Donald W. Reynolds Center for American Art and Portraiture.