The Old Post Office was built in 1899 in Murder Bay, a seedy neighborhood in Washington's Old Downtown district. The building, now also known as 'the pavilion', housed both the United States Postal Department and the DC Post Office.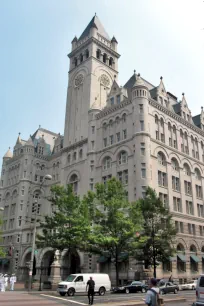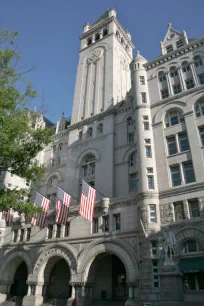 The First Skyscraper
The Post Office building was designed by Willougby J. Edbrooke in the at the time popular Richardsonian Romanesque style. It was Washington's first steel frame building and with a tower topping out at 375ft / 96m, the twelve-story Post Office building was the city's first skyscraper. It was also the first building in Washington to have
its own power plant.
History
Even though it was critically acclaimed at the time it was completed in 1899, soon after the building came under attack for its design which contrasts with the predominantly neoclassical design of many of the capital's Federal buildings. After the DC Post Office moved to a larger building near Union Station in 1914 the building became known as the 'Old' Post Office. In 1934 the offices of the Postal System were moved across the street.
Saved from Demolition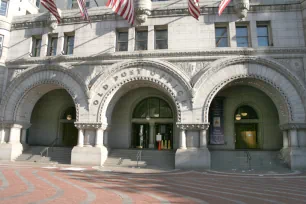 Plans to raze the now redundant building were put on hold due to a lack of funding during the Great Depression era. At the beginning of the 1970s Congress finally decided to tear down the now dilapidated building. But a local preservation group, led by Nancy Hanks, head of the National Endowment for the Arts, opposed the demolition due to the historical and architectural significance of the building. They convinced Congress to reverse its decision and in 1973 the Old Post Office was declared a national Historic Landmark.
Renovation
Ten years later the building was renovated by Arthur Cotton Moore who turned it into a multifunctional building featuring a food court, shops and an entertainment stage. In 2014-2016 the building was renovated once again as part of the building's conversion into a hotel by Donald Trump.
Observation Deck
The National Park Service provides tours of the Old Post Office tower. It leads you to the 270ft / 82m high observation deck which offers one of the best views over Washington. You will also be able to see the ten 'Congress Bells'. Those are rung at the opening and closing of Congress and at special occasions.