Georgetown is an attractive neighborhood situated at the Potomac river, northwest of Washington. Even though it's very close to downtown Washington, this former port has kept its own distinct character.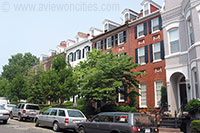 Georgetown
Georgetown's many brick houses in the Federal Style and quiet, sometimes cobblestoned streets attract many of the capital's leading figures to this neighborhood.
History
The area was first settled in 1703, when it was named Rock of Dumbarton. Immigration caused the settlement to grow and in 1751 it was officially declared a town, named George Town after King George II. Thanks to its location at the Potomac River it continued to grow as a tobacco and flour port.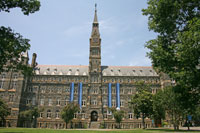 Georgetown University
In 1789 the prospering town became a city, changing its name to Georgetown. The city continued to grow thanks to the construction of its harbor and the C&O canal, and in 1871 Congress annexed to Washington City. Floods and the competition of railways sent Georgetown in decline until the 1950s when it started to attract wealthy young people.
JFK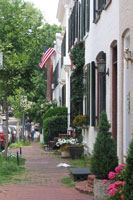 Sidewalk in Georgetown
The most famous of these was the young senator John Fitzgerald Kennedy who resided in several of Georgetown's brick houses. The last house occupied by him and Jackie Kennedy was 3307 N Street, where they lived until they moved to the White House in 1961.
N Street
N Street is probably Georgetown's most beautiful street, lined with well-preserved eighteenth-century brick houses in Federal Style. Very similar to the Georgian style, the more refined Federal style became a symbol for America's new national identity.
Old Stone House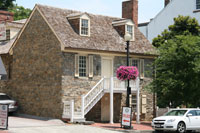 Old Stone House
Georgetown's oldest dwelling, the Old Stone House, can be found at M Street. It was built in 1765 and is the only building in Washington predating the American Revolution. The house was obtained by the government in 1953 and in 1960 the National Park Service restored it to its original condition. The house is open to the public all year round.
C&O Canal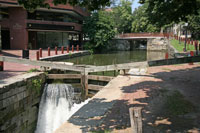 C&O Canal
Also maintained by the National Park Service is the historic Chesapeake and Ohio Canal. Now in disuse, the canal functions as a recreational area. Visitors can hike along the canal or take a ride in mule-drawn canal boats.
Unfortunately there is no metro stop (yet) in Georgetown. The closest stop is Foggy Bottom, less than one mile from Georgetown's M Street.