The historic Chesapeake and Ohio Canal, or C&O Canal in short follows the route of the Potomac River from Washington D.C. to Cumberland in Maryland.
Construction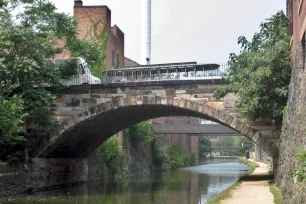 Construction of the 184 mile long canal started in 1828 and took twenty-two years to complete. The 605ft (184m) difference in elevation between Cumberland and Georgetown was overcome by a series of seventy-four locks. Obstacles were tackled with the construction of eleven aqueducts and a 3120ft (951m) long tunnel.
Along the canal was a towpath from where mules towed the boats upstream. At its heyday in the 1870s, more than eight hundred boats were operated on the canal, transporting coal, grain or flour to the port in Georgetown.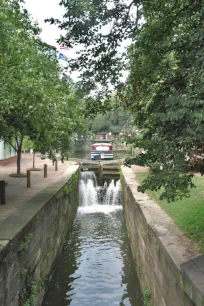 Decline and rescue
Several floods and competition from railroads put the C&O canal out of business in 1924, and in 1938 the property was bought by the Federal Government. In the 1950s, Congress planned to replace the canal with a parkway.
Justice Williams O. Douglas, member of the US Supreme Court, was able to turn public opinion against the plans, so they were set aside and in 1971 the C&O canal was designated a National Historical Park.
The canal in Georgetown
The Chesapeake and Ohio canal runs for about 1.5 miles (2.5 km) in Georgetown, between K and M streets. The banks of the canal are lined with beautiful houses in mostly Federal Style. The towpath along the canal is now a very popular bike and hike path. Visitors can also enjoy a seventy-minute ride in a mule-drawn canal boat replica. They are operated by Park Rangers dressed in period costumes.