Dedicated in May 1997, the Franklin Delano Roosevelt Memorial honors the man who served nearly four terms as President of the United States and has been lauded as one of America's greatest leaders.
About Its Design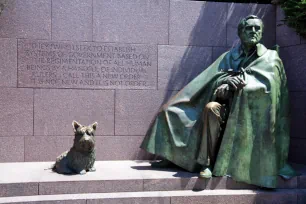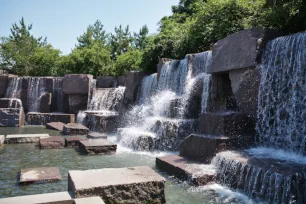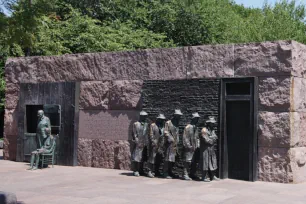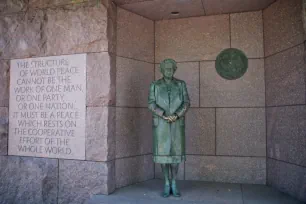 As far back as 1955, Americans were considering a memorial to Franklin Roosevelt, establishing a Memorial Commission that beckoned prospective designers to look to "the character and work of Franklin Delano Roosevelt to give us the theme of a memorial that will do him the honor he deserves and transmit his image to future generations."
However, it took nearly twenty years for definite plans to come to fruition. Chosen as the chief designer was Lawrence Halprin, but the memorial also includes the work of American artists Leonard Baskin, Neil Estern, Robert Graham, Thomas Hardy, and George Segal, as well as stonecarver John Benson.
Even though during his lifetime Franklin D. Roosevelt had asked for no more than a small memorial in front of the National Archives building, the final plan turned out to be monumental in scale.
The Memorial
The memorial sits on what is known as the Cherry Tree Walk and covers a total of about 7.5 acres (3 ha). It consists of a series of four outdoor rooms, one for each of FDR's terms. Inside the rooms, visitors will find particular reference to events that were occurring during those four years, including World War II.
Surrounded by shade trees and enhanced by lovely waterfalls, the memorial is one of the most unobtrusive in the nation's capital. The rooms are divided with South Dakota red granite and attractive plantings, while famous quotes by the president adorn the walls. Relief sculptures depict a Depression-era breadline, a man listening to one of Roosevelt's famous fireside radio chats, and a rural American couple.
Sculptures of FDR feature him sitting with his dog Fala in a wheelchair (though it's hard to tell it's not a regular chair unless you look at the back) and a relief of his funeral cortège hangs in an alcove. Visitors will also find a statue of Eleanor Roosevelt, quite famous in her own right for her work with the United Nations and numerous humanitarian groups. A timeline of dates corresponding to important events in Roosevelt's life can be found in the plaza area.
An information area and book store are located at the entrance to the memorial in West Potomac Park and park rangers are available to answer questions from about 8 am until midnight, especially during peak tourist season.