Built to honor America's great Civil War general and president, the Ulysses S. Grant Memorial is dubbed one of the most important pieces of sculpture in the nation's capital.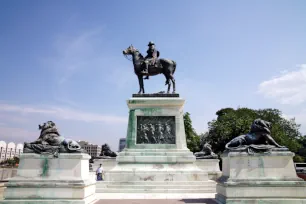 The Ulysses S. Grant Memorial sits at the base of Capitol Hill amidst other important Washington D.C. monuments such as those built to honor Lincoln and Washington. It is currently the largest equestrian statue in the United States and the second largest in the world.
The initiative to build the statue began in the late 1800s, and by 1902, it was officially commissioned by Congress. The design was created by sculptor Henry Merwin Shrady and architect William Pearce Casey. Sculptor Edmond Amateis also assisted Shrady in the effort in the later years of construction. (Shrady died in 1922, two weeks before the memorial was dedicated.)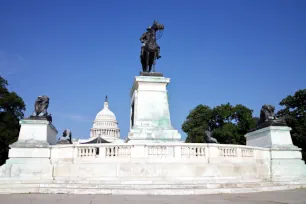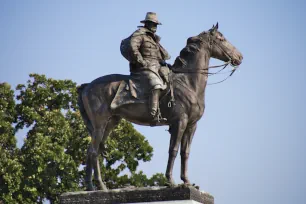 The Memorial
The platform for the memorial measures 252 feet (77 m) long and 71 feet (22 m) wide and is divided into three sections, all made of beautiful Vermont marble. On the tall center section sits a 10,700 pound (4800 kg), 17-foot-2-inch (5.2 m) statue of Grant aboard his horse, Cincinnati. Union artillery and cavalry groups sit upon the lower pedestals on either side of General Grant. Four shorter pedestals surround the main pedestals. Upon those platforms sit lions in repose, guarding the U.S. and Army flags.
The marble bases and the four lions were constructed first in 1909. Within the next seven years, the Cavalry and Artillery groupings were added. Finally, the general's statue took its place in 1920. Sculptor Sherry Fry completed the panels below the statue after Shrady passed away. The Ulysses S. Grant Memorial was dedicated on the anniversary of Grant's birthday, April 27, 1922.