The Jefferson Memorial pays tribute to Thomas Jefferson, the third President of the United States.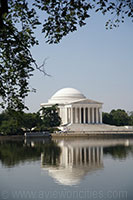 Jefferson Memorial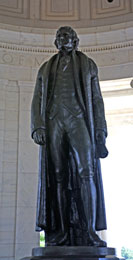 Jefferson Statue
Thomas Jefferson is one of the greatest figures in the history of the nation. The author of the Declaration of Independence was one of the founding fathers of the United States.
A firm believer in equal rights, democracy, education available to all, freedom of religion and separation between church and state, he gave form to the nascent nation still searching for its identity. Besides being a politician, Jefferson was also an architect, a writer, musician, scientist and inventor.
A new Memorial
President Franklin Delano Roosevelt felt that a person of such magnitude deserved a memorial, similar to the Lincoln Memorial and the Washington Monument. A commission was installed in 1934 to choose a design and location for the memorial. It took until 1936 before a design by John Russel Pope was chosen. He had opted for a Neoclassical dome with a portico based on the Pantheon in Rome. Since Jefferson was a supporter of classical architecture, this seemed to be a fitting tribute.
Construction
Construction started in 1939, and it was dedicated four years later, in 1943. Since metal was being rationed during the Second World War, a plaster statue of Jefferson was created instead. After the war, the plaster statue was replaced by a 19-foot-tall (6 m.) statue in bronze, sculpted by Rudulph Evans.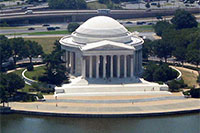 Aerial view
The interior walls are engraved with inscriptions taken from the Declaration of Independence and from other writings.
Tidal Basin
The Jefferson Memorial is located at the south side of the Tidal Basin. The man-made inlet is surrounded by cherry trees. The trees were a gift from the city of Tokyo to the city of Washington in 1912. It is one of the most photographed sights in Washington, especially during the two weeks when the trees bloom.