The Smithsonian's National Air and Space Museum has the largest collection of historic air and spacecraft in the world.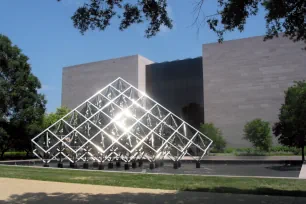 The collection includes more than 30,000 aviation-related and more than 9,000 space related artifacts. A large part of this collection is shown at the National Air and Space Museum at the National Mall in Washington, D.C. Some of the most notable include the Wright 1903 Flyer, the first engine-powered airplane, the Spirit of St. Louis, the plane used by Charles Lindbergh on the first transatlantic flight in 1927 and the Apollo 11 Command Module which carried the astronauts Neil Armstrong, Michael Collins and Buzz Aldrin on their mission to the moon in 1969.
History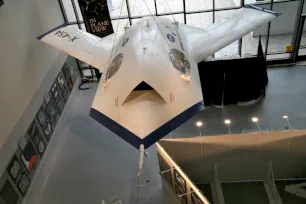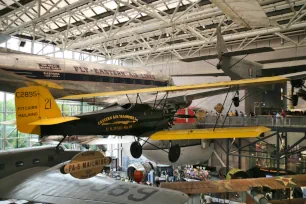 The history of the National Air and Space Museum started in 1946, when Congress created the National Air Museum as a part of the Smithsonian Institution. It was first located in the Arts & Industries building at the Mall and later in the Washington Armory.
In 1966, in the midst of the 'Space Race' between the United States and the Soviet Union, the name of the museum was changed to National Air and Space Museum to reflect the growing importance of its space travel-related collection.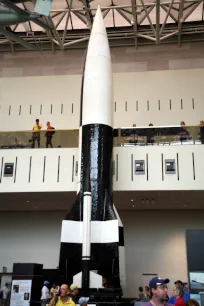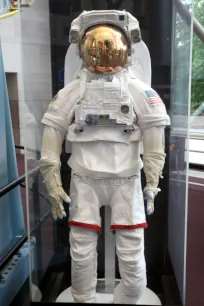 To accommodate its constantly growing collection of airplanes and spacecraft, a new 200,000 sq ft/18,500 sq m building was constructed at the National Mall. The modern and spacious building, designed by Hellmuth, Obata and Kassabaum opened July 1st, 1976. It was immensely popular from the start, attracting more than ten million visitors a year.
Thematic Exhibition Galleries
The museum is divided into twenty-two thematic exhibition galleries with names such as 'Milestones of Flight', 'Early Flight', 'Aviation in WWII' and 'Space Race'. Besides displaying the planes and space modules, the museum also includes interactive exhibits as well as the 230-seat Albert Einstein planetarium and the Langley IMAX theater where you can watch breathtaking movies on a five-story-high screen.
Garber Restoration Facility
Since the Smithsonian Institution's collection is too large to accommodate all artifacts, part of the collection is located at the Garber Restoration Facility in Suitland, Maryland and at the Steven F. Udvar-Hazy Center at the Dulles Airport.
The National Air and Space Museum is located at Independence Avenue on the National Mall.