This Washington museum opened in 2004 as the nation's first museum honoring American Indians. It is housed in a fascinating limestone building, evoking the image of large desert rocks and symbolizing the connection of the American Indians with nature.
Honoring the Native American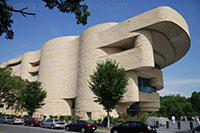 Museum of the American Indian
The idea of building a museum to honor American Indians was proposed by Congress in 1989. The renowned Smithsonian Institution was asked to create the facility and by 2004, the National Museum of the American Indian opened on Washington D.C.'s National Mall. In addition, a branch of the museum – known as the George Gustav Heye Center – opened in Manhattan and a cultural resources center was established in Suitland, Maryland, built to house the museum's collection, a library, and the photo archives.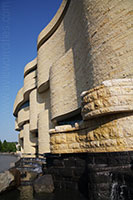 Exterior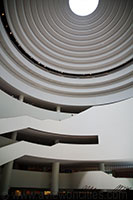 Interior
When the main location opened in 2004, it was the first museum of its kind ever established in the U.S. Much thought went into the design of the building that houses the museum. The architect and project designer is a Blackfoot Indian from Canada, Douglas Cardinal, who cooperated with architect Johnpaul Jones, of the Cherokee and Choctaw tribes. Cardinal chose a curvilinear building that sits five stories tall and is made of a tan-colored Kasota limestone from southern Minnesota. The building sits on 4.25 acres (172 are) and is surrounded by imitation wetlands.
Exhibits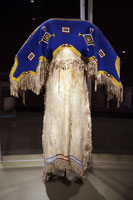 Native American
Dress
The museum boasts expansive display areas that showcase both permanent and temporary exhibits about the lives and culture of the American Indian and other Indians of North America. Permanent exhibitions include Our Universe – a look at Native cosmology; Our Peoples – a gander at the events that shaped the lives of Native peoples; and Our Lives – which examines Natives and their culture in the 21st century.
There are also several places within the museum where visitors can enjoy live presentations or other special events. The Potomac, near the entrance to the museum, features a large rotunda and is ideal for social events. The Main Theater, situated on the ground level, is used for music and dance presentations, plays, storytelling, films, lectures, and seminars. The Lelawi Theater provides visitors with a multimedia presentation that will prepare them for what they will see inside the museum and help them understand the museum's emphases.
The onsite Mitsitam Café sells food that reflects the indigenous cuisines of America and the facility's two museum stores peddle jewelry, textiles, typical souvenir items, and children's books and toys.