The Smithsonian is an institution that manages a whole range of museums across the city of Washington. The collection of the Smithsonian was originally housed at a castle-like structure, the appropriately named Smithsonian Castle.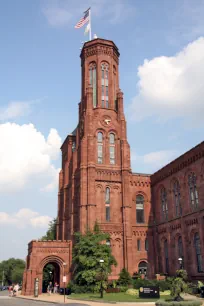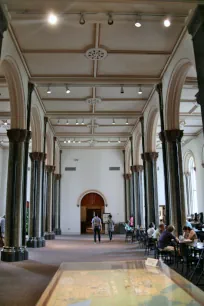 Today the collection of the Smithsonian Institution takes days to explore as it is spread over sixteen museums that house the millions of artifacts, paintings, and other items that are part of the Smithsonian's ever-growing permanent collection.
The crowning jewel of the Smithsonian is the institution's first building, the Smithsonian Castle, a grand structure built in 1855, which now houses most of the museum's administrative offices.
The Building
The Smithsonian Castle was designed by one of the most renowned architects of the era – Mr. James Renwick, Jr. – who was also responsible for New York's St. Patrick's Cathedral and the Smithsonian art gallery that bears his name, where you'll find fine American crafts and decorative arts from the nineteenth to twenty-first centuries.
The design is Norman in style, described as "a twelfth-century combination of late Romanesque and early Gothic motifs". The brownish-red color of the building comes from the Maryland red sandstone used in the construction of this spectacular edifice.
When it was completed, the Castle held offices, a lecture hall, library, chemical laboratory, natural history laboratory, art gallery, science museum, and archives. The museum didn't truly expand outside this building until the 1960s.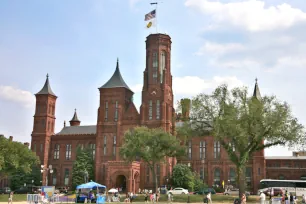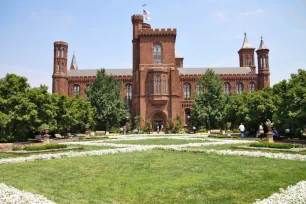 Only a decade after it was built, the Smithsonian Castle was partially destroyed by fire, which consumed the upper story of the main segment and the north and south towers. Twenty years later, the east wing was fireproofed, according to Smithsonian records, and additional administrative offices were added.
The first secretary of the Smithsonian, Joseph Henry, also lived in this great structure with his family for quite some time. You'll find a statue of Henry outside the castle and the crypt of Smithsonian founder, James Smithson, inside the north entrance to the castle.
Smithson was a British chemist, who bequeathed his fortune to the United States, which led to the creation of the Smithsonian Institution.
Touring the Castle
The castle is the headquarters of the Smithsonian Information Center, a good place to stop before you embark on your multi-museum tour of the Smithsonian Institution. You'll learn lots about the nineteen various museums that are part of the complex via a short video presentation, maps, and brochures.
A limited number of guided tours of the Smithsonian Castle are offered, depending on the availability of one of the museum's many volunteer docents. Inquiries may be made at the information desk inside the building.