The Navy Memorial in Washington, D.C. is a tribute to all who served in the U.S. Navy and other sea-related services. The memorial consists of a plaza with fountains, reliefs, and a statue of a sailor.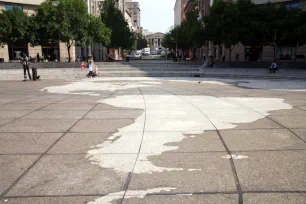 Dedicated in 1987, the U.S. Navy Memorial was the culmination of a century-old plan to build a monument to the power and struggles of this branch of the American armed forces.
First proposed by Pierre L'Enfant, the architect responsible for the layout of the city of Washington DC, the idea of a memorial was finally resurrected by Admiral Arleigh Burke in 1977. Burke and several colleagues formed a commission to gather ideas and create the memorial. Congress approved the project in 1980 and construction began five years later at Market Square on Pennsylvania Avenue, a site now known as Navy Memorial Plaza.
Lone Sailor Statue
The statue of a lone sailor is the most recognizable part of the large memorial, covering the whole plaza. Crafted in 1990 by sculptor Stanley Bleifield, the statue pays homage to those who served in the U.S. Navy. The sailor stands on a large world map, dubbed the 'Granite Sea', a replication of the oceans of the world in granite.
Two fountain pools surround the "sea" and pay tribute to not only the U.S. Navy, but also the navies of the world. Also surrounding the granite sea are twenty-six bronze bas-reliefs that represent a variety of significant events, persons, and communities with connections to the U.S. Navy.
Naval Heritage Center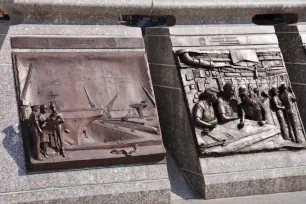 The Naval Heritage Center, which sits adjacent to the Plaza, houses a display area that presents rotating exhibits about the Navy or navy-related topics and a theater that shows two short films several times a day – one called "At Sea" and another dubbed "A Day in the Life of the Blue Angels".
Also inside the Heritage Center, a commemorative plaque wall pays tribute to various individuals and groups of shipmates who served together on particular vessels both during wartime and in times of peace.
There's also a library and media resource center on site which features a collection of about 1,000 books and periodical titles, 30,000 photographs, 1,500 Voices entries, and a variety of multimedia products.