This historic building was the site of President Lincoln's assassination in 1865 by John Wilkes Booth, an actor. Today it is an active theater with an onsite museum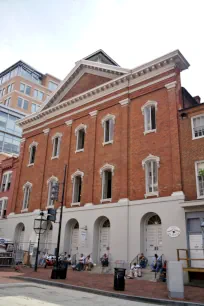 The Theatre Building
In 1861, John Thomson Ford – a theatre manager from Baltimore, Maryland – opened a theatre in a 1833 building, originally home to the First Baptist Church of Washington, D.C. After it was destroyed by fire the next year, Ford built a new theatre in 1863, known as Ford's Theatre. A popular spot for local residents to enjoy a night of first-class entertainment, the theatre would become world-renowned in 1865, just five days after General Robert E. Lee's historic Civil War surrender at the Appomattox Courthouse in nearby Virginia.
That Infamous Night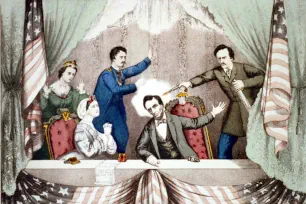 On April 14, while President Abraham Lincoln was watching a production of the play "Our American Cousin" at the theater, John Wilkes Booth stepped into the president's private box and shot him in the head, supposedly distraught over the losses suffered by the South during the war. The event cemented the theater's place in history.
After the Assassination
For more than a century after the shooting, Ford's Theatre was not permitted to be used as a place of "public amusement" but rather was used for a variety of other purposes, including for War Dept. offices and as an Army medical museum. A building collapse in 1893 killed several workers inside the structure and, though it was repaired and reused, the building eventually sat empty from 1931 until 1965, when a few Congressmen began lobbying for its repair. Funds were allotted that year and in 1968, the theater once again reopened to the public.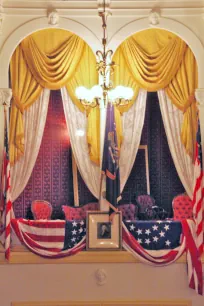 Since that time, it has functioned as both an historic site and an active theater, presenting both plays and musicals, many concerning the life of America's 16th president. In 2007, it closed for extensive repairs and, with much fanfare, reopened on Feb. 12, 2009, Lincoln's birthday. The building now also features an onsite museum, which contains numerous historic artifacts.
About the Building
Architecturally, especially on the outside, the building contains almost none of the features of the original theater, largely due to renovations that have taken place over the past century. Inside, the 1968 renovation attempted to restore the seating area to its historic appearance, largely based on crime scene photos from the days that followed Lincoln's death. The brick facade is the only authentic part of the exterior that remains, but inside, columns, plaster work, and a ceiling mural remain from the 1968 renovation and were enhanced during the most recent changes.