This seven-acre (2.8 ha) public park abounds with history and is surrounded by plenty of notable buildings.
History of the Square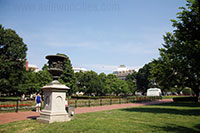 Lafayette Square
Located on H Street between 15th and 17th Streets, NW, just north of the White House, Lafayette Square is a public park that was originally established as a place of leisure for the president and his family, who lived in the nearby executive mansion, which had been completed in 1800.
Originally known as "President's Park", the area was eventually separated from the White House when Pennsylvania Ave. was constructed around 1804. President's Park is still in existence but now includes a wider area, encompassing Lafayette Square, the White House, the White House visitor center, and the area known as the Ellipse.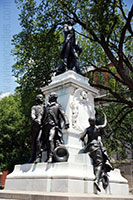 Lafayette Monument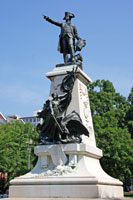 Rochambeau
Monument
In 1824, the park was named after Marquis de Lafayette, a loyal Frenchman who fought for the Americans in the Revolutionary War against the British. A statue of Lafayette stands in one of the corners of the Square.
Throughout the last two centuries, Lafayette Square has served many purposes. During the War of 1812, soldiers were encamped there, but the park has also accommodated a zoo, a racetrack, a burial ground, and was a place where slaves were sold. Today, the park is a peaceful area, but its proximity to the White House also makes it a popular place for demonstrations.
Its Landscape
In 1851, the square was re-landscaped by Andrew Jackson Downing, a noted early American landscape architect and horticulturalist. Downing's design remains today.
At the center of Lafayette Square is a large statue of President Andrew Jackson (1767-1845), erected in 1853 and cast in bronze by Clark Mills with help from Phillip Reid, an enslaved apprentice. It was the first equestrian statue ever cast in the United States.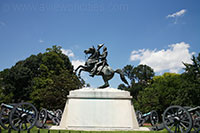 Statue of Andrew Jackson
On the four corners of Lafayette Square, visitors can view a statue of Marquis de Lafayette – the square's namesake, and three other foreign Revolutionary War heroes – the Comte de Rochambeau of France, Tadeusz Kosciuszko of Poland, and the Baron von Steuben of Prussia.
Buildings in the neighborhood
Lafayette Square is surrounded by historic buildings. Besides the White House to the south, buildings located around or near the square include the Old Executive Office Building, the Department of the Treasury, The Renwick Gallery, St. John's Episcopal Church (the "Church of the Presidents"), and the historic Hay-Adams Hotel.