Bartholdi Park is a small triangular park southwest of the US Capitol building between Independence Avenue, First Street and Washington Avenue.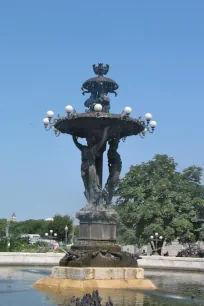 The park is divided into a series of beautiful miniature gardens, intended to inspire urban gardeners. Each garden has a specific theme and has been given a name such as 'rock garden' or 'romantic garden'. The park is actually a showcase of the nearby botanic garden; its administrative building is located in the park.
Bartholdi Fountain
The centerpiece of the Bartholdi Park is the elegant Bartholdi Fountain. The cast iron fountain is decorated with turtles, cherubs, frogs, fish and three large sea nymphs holding a basin. The fountain does not look very large, but the figures of nymphs are 11 ft or 3.3 m tall, while the whole fountain is about 30 ft (9 m) tall and weighs forty tons.
Centennial Exhibition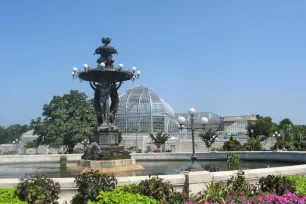 The fountain was created by Frédéric Auguste Bartholdi for the 1876 International Centennial Exhibition in Philadelphia. Bartholdi is better known for his Statue of Liberty, a gift from the French government to the United States. The French sculptor completed the fountain while working on the Statue of Liberty. The statue could not be finished before America's 100th birthday, but the fountain was completed in time and placed at a prominent location near the entrance of Fairmount Park.
Move to Washington
After the exhibition, the fountain was purchased by the US government on Frederic Law Olmsted's recommendation. Olmsted, a famous landscape designer, is known for New York's Central Park and the US Capitol's terraces.
The fountain was moved to Washington, D.C. and ten years later it was placed at the base of Capitol Hill, where the National Botanic Garden was located.
The Bartholdi Fountain became a popular attraction since it was the first public monument in Washington to be illuminated at night. Originally lit by gas, it was fitted for electric lighting in 1915.
When the National Botanic Garden was relocated in 1927, the fountain was dismantled. It would take another five years before it was put up again at its present location in a newly created park. In 1985, this park was renamed Bartholdi Park in honor of the French sculptor.