The neo-Gothic Cathedral of St. Patrick is the largest Catholic Church in the United States. Despite its tall spires, it is dwarfed by the many neighboring midtown skyscrapers.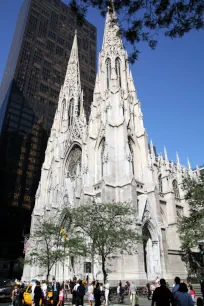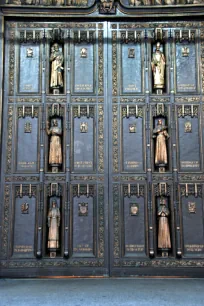 History
St. Patrick's Cathedral, situated on posh Fifth Avenue near Rockefeller Center, is actually the "new" St. Patrick's. The original church opened in 1815 on Mulberry Street in Lower Manhattan. During the next several decades, the Catholic population of New York City continued to rise, and in 1853, Archbishop John Hughes declared that the city's faithful should have a new place to worship.
Hughes' plans were so grandiose that most people took to calling the project "Hughes' Folly". James Renwick's Gothic revival design was based on the cathedral in Cologne, Germany. The cornerstone was laid in 1858 and the doors of the cathedral finally opened in 1879, fifteen years after Hughes's death. The spires were completed even later, in 1888.
Architecture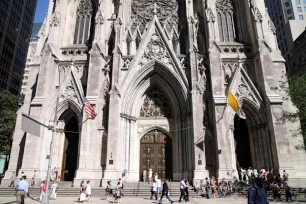 The marble clad St. Patrick's Cathedral is arguably the most spectacular ecclesiastical building in New York. The west facade, with its flamboyant Gothic twin spires, is particularly impressive. The slender towers rise majestically to a height of 330 feet (100 m.). Until the advent of the skyscrapers around the turn of the 20th century, they towered high over the city.
The cathedral has a Latin cross floor plan, with a total length of 332 feet (100 meters). The transept is relatively short at 174 feet or 53 meters. The main facade has three porches with bronze doors. The enormous door in the central porch, weighing nine tonnes, is decorated with sculptures depicting some of New York's most important religious figures.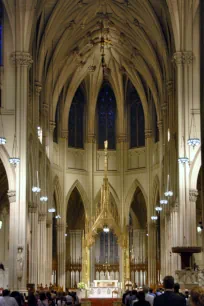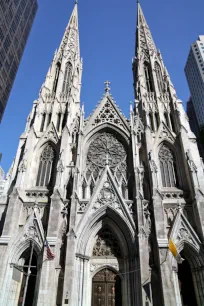 Interior
The interior was designed in the style of English churches. The ornate Lady Chapel was constructed in 1900 after a design by Charles T. Mathews, complete with magnificent stained-glass windows crafted in England and added gradually over the next twenty-five years. Near the chapel is a pietà created in 1906 by American sculptor William O. Partridge. It is three times as large as Michelangelo's pietà in the St. Peter's Basilica in Rome.
The church also features a tomb for the country's first saint: St. Elisabeth Ann Seton. Also of note are the cathedral's large rose window. Below the rose window is the church's main organ, added in 1930 as a replacement for one of the original organs.
Renovations
Miraculously, St. Patrick's Cathedral was debt free by 1911. By this time, more and more features had been added and $4 million total had been spent on the structure.
Throughout the last several decades, the cathedral has undergone several renovation projects, both inside and out, including projects to restore the cathedral's organs and bells. A recent chapel was added in homage to the Polish saint, Our Lady of Czestochowa.