The Feldherrnhalle is a beautiful Italianesque loggia. The stately structure was once the site of a historic clash between Hitler followers and the Bavarian government.
About the Landmark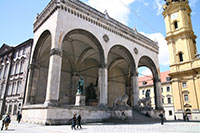 Feldherrnhalle
Munich's Felderrnhalle (Field Marshal's Hall) was built between 1841 and 1844. It is prominently located at the Odeonsplatz, at the former site of one of the city's main gates, the Schwabinger Tor. At the behest of King Ludwig I, architect Friedrich von Gärtner designed this open loggia (similar to a colonnade) and modeled it after the Loggia dei Lanzi in Florence.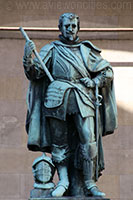 Count von Tilly
Built as a tribute to the Bavarian army that fought in the Franco-Prussian War, the 20-meter-high structure features bronze statues of some of the most revered generals of Bavaria, count von Tilly (1559-1632) and Marshall Wrede (1767-1838). The statues were designed with the help of drawings by German artist Ludwig Schwanthaler.
In addition, two lions grace the steps. It is said that one is growling at the Residenz and the other is keeping its mouth shut towards the church. They were sculpted by Wilhelm Ruemann in 1906. The sculpture at the center of the loggia represents the Bavarian army and was created in 1899 by Ferdinand von Miller the Younger, son of the builder of the large Bavaria statue at the Ruhmeshalle.
The Feldherrnhalle and the Nazis
The Field Marshal's Hall became famous as the site of a pre-World War II skirmish between the Bavarian police and followers of Adolf Hitler.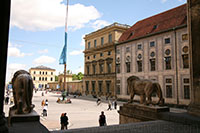 Odeonsplatz seen from
Feldherrnhalle
On November 9th, 1923, Hitler supporters organized an illegal march down the Ludwigstraße towards the Feldherrnhalle to start the so-called "people's revolution". The state police ordered the marchers to stop and when they failed to do so, the police opened fire and killed sixteen marchers. Also, four policemen were killed during the clash and many others were wounded.
Following the skirmish, Hitler was arrested and sent to prison to serve a short term. The battle between the marchers and the police has come to be known as the Beer Hall Putsch because the march began at the Bürgerbräu Keller, one of the city's largest beer halls. (Putsch means "coup" in German.)