Odeonsplatz is a beautiful square bordered by the Italianesque Feldherrnhalle, Theatinerkirche and Hofgarten, a former court garden. From this square Ludwigstrasse – one of Munich's most monumental streets – leads to the Siegestor, a large triumphal arch.
History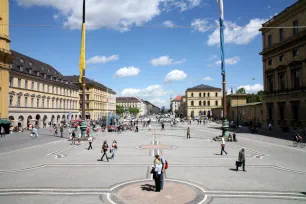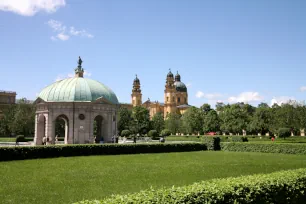 Until the end of the eighteenth century, when the fortifications around Munich were torn down, this area was just outside the city walls. It was dominated by the Schwabinger Tor, a large fourteenth-century gate leading to Schwabing, a nearby village.
In 1816 Ludwig I commissioned Leo von Klenze to design a new square at this site. This led to the demolition of the Schwabinger Tor. Ludwig I's intentions were to create a great square that would on one hand become the starting point of a large monumental road leading to the districts outside the city and on the other hand the square would act as a triumphal gateway to the city.
Odeon
The square is named after the Odeon, a large Concert Hall which was built between 1826 and 1828 by Leo von Klenze. The hall was heavily damaged by an air raid in 1944. After the war, the building was transformed into a governmental office building.
Feldherrnhalle
The most prominent structure on the Odeonsplatz is the Feldherrnhalle or Field Marshal's hall. Together with the Theatinerkirche, this building gives the Odeonplatz the appearance of an Italian Square.
The Feldherrnhalle consists of a covered hall with three arches. A staircase at the central arch leads to the entrance, which is flanked by two Bavarian lions. The structure was designed in 1841 by Friedrich von Gärtner after the Loggia dei Lanzi in Florence, Italy. It was built on the request of Ludwig I who wanted to honor his Bavarian generals.
Hofgarten
On the east side of the Odeonsplatz is the Hofgarten, a Renaissance court garden created between 1613 and 1617, during the reign of Duke Maximilian I. It is laid out as an Italian formal garden and features a domed temple crowned with a bronze figure symbolizing Bavaria.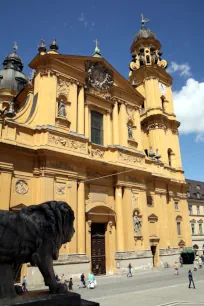 Theatinerkirche
On the west side of the Odeonsplatz is the copper-domed Theatinerkirche (Theatiner Church).
The church was built in Italian high-Baroque style after the San Andrea del Valle church in Rome and was designed by Agostino Barelli. He also led the construction of the church from 1663 to 1669. His successor, Enrico Zuccalli, finished the 71 meters/233 ft high dome in 1690 and added two towers, which originally weren't planned.
The current facade in late Rococo style was only finished in 1768 by François Cuvilliés. The two small towers catch the eye with their curled shapes, and together with the towers of the Frauenkirche and the Peterskirche, they define much of the Munich skyline.