Affectionately known as Alte Peter (Old Peter), St. Peter's Church is the oldest in the city of Munich. Built in 1180, the church has had a turbulent and interesting past, but is still a favorite tourist attraction and is fondly admired by locals as well.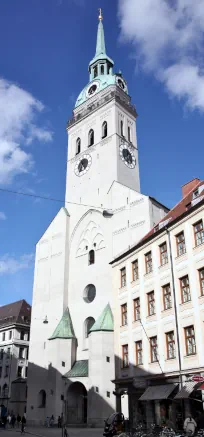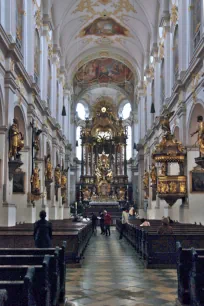 St. Peter's Past
Built on the same site where eighth-century monks had established a monastery, Peterskirche was designed in the Romanesque style. The monks had called this area Peterbergl, or Peter's Hill, so a similar name was given to the church. The same monks also gave the city its current name, as München is derived from Mönch, the German word for monk.
The mostly-wooden church stood for only 150 years before a fire totally destroyed the structure. During the next forty years (1328-1368), the church was reconstructed, with many Gothic motifs added.
The church stood in its Romanesque/Gothic splendor for the next three centuries, only to have a Renaissance steeple added during the seventeenth century. Shortly after that, a Baroque choir was added at Peterskirche. Just a century or so later, it was completely renovated – this time in an elaborate Rococo style.
Near the end of World War II, the church was almost completely destroyed. Its reconstruction began shortly after the end of the war, and was finally completed in the year 2000.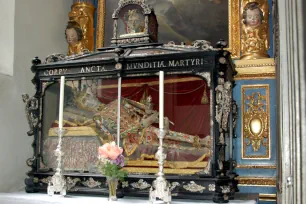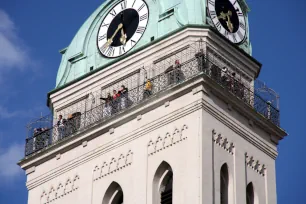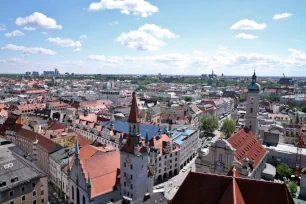 Over the years, Peterskirche accumulated a number of great works of art, and many have been saved. You may find sculptures by fifteenth century artist Erasmus Grasser and paintings by Johann Baptist Zimmerman inside the ornate interior.
St. Mundita Skeleton
A tour of Peterskirche is a must for visitors to Munich. Many guests immediately congregate at the second chapel on the left, where you'll find the eerie skeletal remains of St. Mundita.
The skeleton itself is gilded in gold and covered with precious stones. Jewels adorn its rotted teeth, and two false eyes stare out at visitors. Very macabre, but quite an attraction!
Viewing Platform
The church also has a wonderfully tall steeple which you can climb to reach a viewing platform. It's a great place to snap photos of Munich on a clear day.
If you're up for the climb, look for the color-coded circles at the lower platform. These will let you know whether it's worth it to climb the 306 steps to the 56-meter-high platform. For example, a white circle means visibility is at its best, and you may be able to see all the way to the Alps.