Munich's Old Town Hall has graced the Marienplatz for more than five hundred years. It is one of the city's most beautiful buildings from the Gothic era.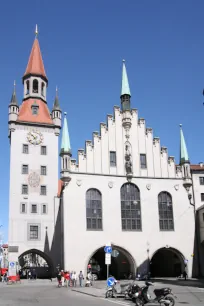 The Building
The building that has been known as the Old Town Hall since the nineteenth century was built between 1470 and 1480. Designed by Jörg von Halsbach – better known as the master builder of the Frauenkirche – this original city hall was created in a Gothic design, which was the popular style of the era.
However, numerous changes were made to the building in the late Renaissance and early Baroque periods (late 1500s, early 1600s). Nearly three hundred years later, in the 1860s, it was reconverted back to its Gothic splendor. Later, in 1877 and again in 1934 two gateways were created to allow traffic to pass through the building.
Interior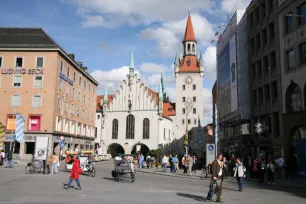 While the exterior looks plain in comparison with other surrounding buildings, the interior of the Altes Rathaus has been touted as a masterpiece of medieval design. It boasts a beautiful barrel-vaulted timber roof with handsome decorative beams and golden stars. A frieze of the town's coat of arms was installed in 1478.
The tower
The 55-meter-tall (180 ft.) tower is visible from a number of spots in the city. The tower is actually older than the building proper, as it was built in the twelfth century as part of Munich's fortifications. It's possible to climb to the very top of it, from where you have a great vantage point.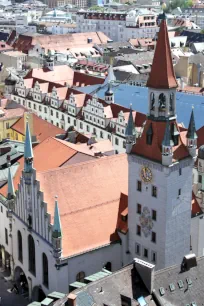 Reconstruction
Unfortunately, large portions of Altes Rathaus were destroyed during World War II. Restorations began shortly thereafter and lasted for several decades. The refurbishing of the tower was finally completed in 1975. The specifications of the original fifteenth-century design were followed closely during the rebuilding process, and the result was a building that looked almost like von Halspack's wonderful design.
Toy Museum
Today, the Old Town Hall houses a fun toy museum (Spielzeugmuseum), situated in four rooms inside the tower, each on a different level. The museum traces the history of toys from the early nineteenth-century toys up to the current modern ones. A small gift shop on the first floor offers a variety of trinkets and souvenirs.