The tiny Asamkirche (Asam's Church) is one of Munich's most ornate and unusual. The house beside it is almost equally as grand.
The Asam Church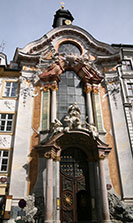 Asamkirche
Asamkirche was built by a pair of brothers who intended the structure to be their own private church. (However, church hierarchy demanded it be open to the public).
Constructed between 1733 and 1746, this church – for which the real name is Church of St. Johann Nepomuk – was designed by two brothers, architects Cosmas Damian Asam and Egid Quirin Asam, who lived in a home next door to their extravagant house of worship.
With just twelve rows of pews, Asamkirche is one of Munich's smallest but certainly one of its most opulent. Outside, the church is a fine example of late German Baroque architecture.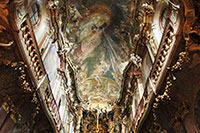 The church's ceiling
Inside, the chapel walls are covered with frescoes by Cosmas Asam and the remainder of the wall space is a rich red color.
Above the doorway, visitors will find a magnificent statue of St. Nepomuk himself – a fourteenth-century Bohemian monk who drowned in the Danube – being led to heaven by angels of God. Nepomuk appears again in a lavish fresco on the ceiling.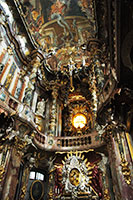 Asam Church interior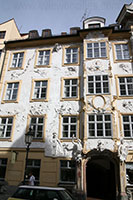 Asam House
The high altar is enclosed by four twisted columns and a glass shrine contains a wax figure of the church's namesake. The cornice above depicts God the Father bending over the crucified Christ. Two angels, sculpted by Ignaz Günther, flank the gallery altar and were added to the church at a later date.
Much of the church's interior, including the stucco figures and ornamentation, the gilding, and the oil paintings and frescoes were carefully restored between 1975 and 1982.
The Asam House
The neighboring home on the left side of the church, which became known as the Asam House (Asamhaus) when it was acquired by Egid Quirin Asam in 1733, was actually built in the sixteenth century.
When Egid took possession of the house, he sculpted lavish stucco ornamentation for the exterior of the home, as was typical of the South German rococo technique known as Lüftlmalerei.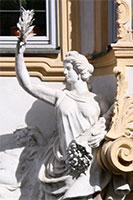 Asam House
ornament
Two themes grace the exterior walls. On the upper half is Asam's interpretation of the Christian heaven, while the bottom half, according to experts, represents mankind's artistic activity and the sensuous world.
It is said that the bay window of the home was constructed specifically so that Egid could always see the church.