Munich's Neues Rathaus (New Town Hall) is one of the most recognizable landmarks in the city. Its cathedral-like tower looms large over Marienplatz, the city's main square.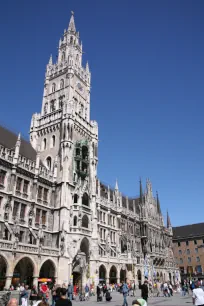 A New Town Hall
By the mid-nineteenth century, Munich was growing in leaps and bounds. The city council determined that more space was needed to house government offices, so they embarked on plans for a new town hall. A site at the Marienplatz was chosen, and two dozen buildings were demolished in order to make way for the grand Neues Rathaus, which was designed by 24-year-old Georg Hauberrisser. Incidentally, the Altes Rathaus (Old Town Hall) was not demolished, but still stands near the Neues Rathaus.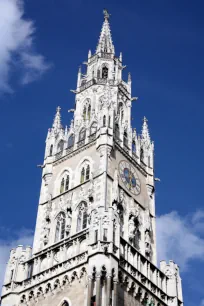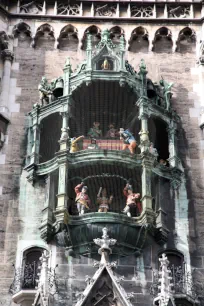 Construction on the new town hall began in 1867 with the eastern portion of the building, fashioned from brick. It was completed in 1874. Fifteen years later, an extension was built on the rear of the building. Finally, the limestone western half of the building was added, featuring the most recognizable part of the Neues Rathaus, the 79-meter (259 foot) tower. All was completed by 1909.
The town hall is constructed in the Flemish Gothic style. Its facade is more than 90 meters (300 feet) in length, and the ornate stone ornamentation that graces the exterior is stunning. There are wonderful stained-glass windows, beautiful vaulted ceilings, intricately carved woodwork, and a labyrinth-patterned floor in the inner courtyard. Hauberrisser saw to every detail of the project and the result was grand, even though it's easy to tell where the original portion ends and the western half begins.
The Glockenspiel
The crowning glory of the Neues Rathaus is its world-famous "glockenspiel", the fourth largest in Europe. Each day at 11 am, noon, and 5 pm, thirty-two near life-size figures give a performance for the crowds that gather at Marienplatz to watch.
Spectators can view two presentations: a reenactment of the 1568 wedding of Duke William V and Renata of Lorraine, complete with a jousting match followed by a rendition of a dance called the Schäfferltanz, first performed to mark the end of the plague in 1517. At night, visitors will see a night watchman blowing his horn and the guardian angel of Munich bestowing a blessing on the city.