Marienplatz is the heart of the city of Munich. In the Middle Ages, the square used to be a marketplace as well as the site where tournaments and festivities took place.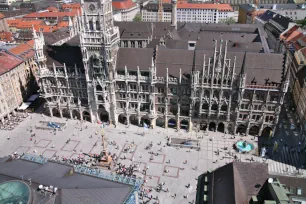 In 1807 Marienplatz's market moved to the nearby Viktualienmarkt, but the square still continued to be the city's focal point. Important public events such as tournaments or executions were still held here.
The square was originally known as Schrannen, but it was renamed Marienplatz (St. Mary's Square) as a way to ask Virgin Mary to protect the town from a cholera epidemic.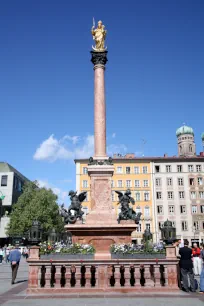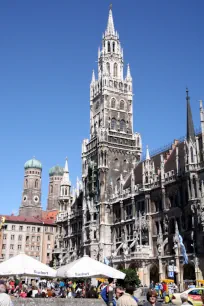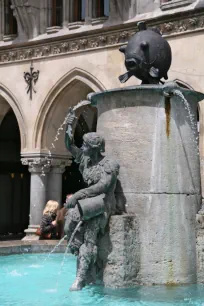 Mariensäule
The large column at the center of the square is known as the Mariensäule (Column of St. Mary). It was erected in 1638 to celebrate the end of the Swedish invasion. The statue is topped by a gilded statue of Virgin Mary which was sculpted earlier, in 1590 by Hubert Gerhard. At each corner of the column's pedestal is a statue of a putti, created by Ferdinand Murmann. The four putti symbolize the city's overcoming of war, pestilence, hunger and heresy.
New Town Hall
The square is dominated by the New Town Hall (Neues Rathaus). The monumental, 79-meter-high (259 ft) town hall was built between 1867 and 1909 by Georg Joseph Hauberrisser in Flemish Gothic style to alleviate the overcrowded Altes Rathaus nearby.
Carillon
At 11, 12 and 17 o'clock each day, visitors can watch the famous Glockenspiel or carillon. The figures perform the Schäfferltanz or Cooper's dance, which was originally performed in 1517 at the Marienplatz to commemorate the end of the plague.
Fischbrunnen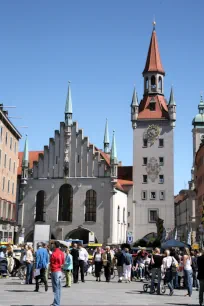 Right near the Neues Rathaus is a small fountain, the Fischbrunnen or Fish Fountain. Originally designed by sculptor Konrad Knoll in 1864, the fountain was destroyed during World War II. It was rebuilt in 1954.
Old Town Hall
The original Old Town Hall or Altes Rathaus was completely destroyed by fire in 1460. Between 1470 and 1480, the old town hall was rebuilt in Gothic style by Jörg von Halsbach (who was also responsible for the Frauenkirche). The building was destroyed once again during the Second World War, but rebuilt afterwards following the original fifteenth-century plans.