Built as a summer residence for one of Bavaria's electors, Schloss Nymphenburg (Nymph's Palace) is a treat for those who enjoy viewing the opulence of the lifestyles of the aristocracy.

About the Palace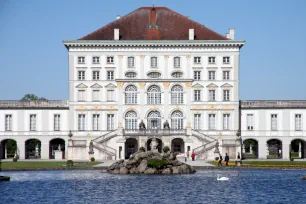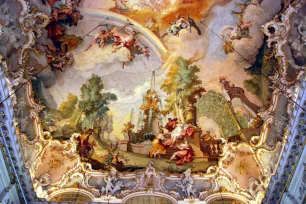 Located just west of Munich, the Nymphenburg Palace was commissioned in 1664 by Elector Ferdinand Maria, to celebrate the birth of his son, Maximilian Emanuel. The elector was to make this his summer residence and would live here with his consort and the mother of his child, Henriette Adelaide of Savoy.
The architect chosen for the palace was Agostino Barelli, who designed the central section of the palace to resemble an Italian villa, much to the delight of Henriette.
However, the palace didn't maintain its original state for long. As a matter of fact, a total of five Wittelsbach rulers had their hand in changing or adding to the palace. Max Emanuel, the young man for whom the castle was built, was the first to make additions, in the year 1700.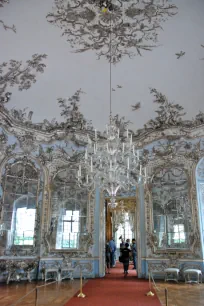 He added galleries and pavilions, extending the sides of the Nymphenburg Palace. For this job, he chose architects Enrico Zuccali and Antonio Viscardi. Soon, stables were added to the south and an orangerie to the north.
Further additions continued, especially throughout the 18th century. The facade was extended to an impressive width of 600 meters (1968 ft.). A circle of ornate Baroque mansions, known as the Schlossrondell, was erected under Emperor Charles VII. The enormous Grand Hall, or Steinerner Saal, was added during the reign of Elector Maximilian III Joseph and includes ornate Rococo elements fashioned by Flemish architect François Cuvilliés. Johann Baptist Zimmermann created the magnificent ceiling frescoes.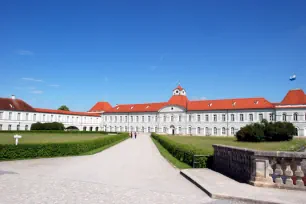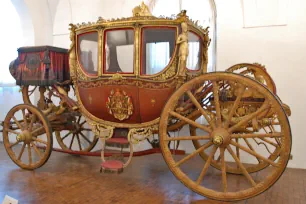 Cuvilliés also designed Amalienburg, a splendid hunting lodge.
Today's Palace
Visitors to Nymphenburg Palace can still view rooms that are decorated in their original Baroque style. Some, however, were redone in Rococo and Neoclassical style.
Tours are available daily and several rooms in the palace are even available for rent for special occasions.
The stable of the palace houses a wonderful museum of ancient carriages and sleighs, the Marstallmuseum. Many were involved in historic events such as coronations. The palace also houses a fine collection of Nymphenburg porcelain.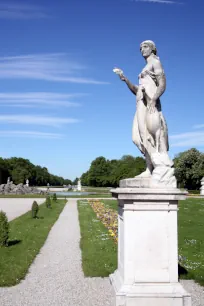 The Park and Canal
The Nymphenburg palace is set in a large, nicely laid out park. Originally it was a small Italianesque garden, but during the seventeenth century it was expanded and redesigned as a formal French garden by Charles Carbonet, who had worked for André Le Nôtre (designer of the gardens at the Versailles Palace near Paris).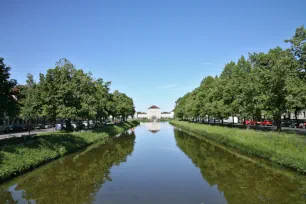 In the second half of the eighteenth century the garden was transformed in a landscape garden, but the original axis of the garden, which centers around a long canal, was retained. At the end of the 900 meter-long canal is a cascade adorned with four large sculptures.
At the other end of the palace, an even longer (two km.) canal leads as a grand entranceway towards the palace.