Munich's Residenz Palace was the official home of Bavaria's monarchs from 1385 to 1918. Its history is as complex as its architecture, but it's definitely a must-see on your Munich itinerary.
History of the Residenz Palace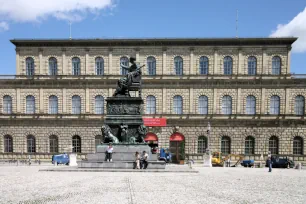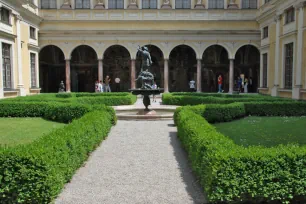 Built in 1385 and known as the Neuveste, the first tenant at the Residenz Palace was Duke Stephan III, who reigned from 1375 to 1392. The palace was expanded under the tenure of Duke Wilhelm IV from 1508 until 1550. Part of the expansion included the construction of the Antiquarium, a magnificent Renaissance hall.
Every subsequent monarch that moved into the palace, it seems, added yet another room or two to the residence; from ballrooms and chapels to galleries, apartments, fountain courts, and gardens.
Because additions were made over the centuries, they vary greatly in style. It's said that if you approach the Residenz Palace from one side, you'll think it's Palladian. Come in from another direction, and you'll think the architectural style resembles Italian or German Renaissance.
During World War II, the Residenz was almost completely destroyed, but many of the masterpieces inside were moved to safety before the bombs hit the palace. Restoration began in 1945. Eventually, a concert hall replaced Ludwig I's Throne Room and the palace reopened as a museum in 1958. Reconstruction continued and as each section was completed, new sections were added to the museum.
The Residenz Palace and Museum Today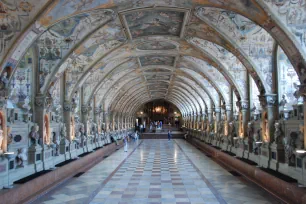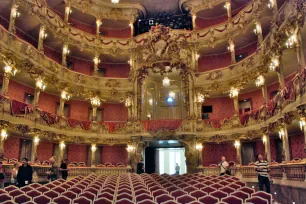 Today, the Residenz Museum occupies the southwestern portion of the palace and consists of about 120 rooms full of art, furnishings, and other treasures.
The Antiquarium boasts dozens of sixteenth- and seventeenth-century frescoes. In the Ancestral Gallery, portraits of the royal Wittelsbach family are set into gilded, carved paneling. Far Eastern porcelain and oriental rugs can be found in the Porcelain Gallery. The magnificent Rococo-style Cuvilliés-Theater still has its original eighteenth-century interior.
The Schatzkammer (literally, the "treasury") houses statues fashioned from precious gems and metals. (A separate ticket is required for the Schatzkammer.)
There's also a beautiful court chapel inside the palace, built in 1603 by Hans Krumpper. And one of the courtyards features a colorful grotto decorated with crystals and seashells.
The museum is open daily and admission is free for those 15 years of age and younger. The admission price for others is quite affordable. Allow several hours to explore the Residenz Palace.