The Cuvilliés Theater is a magnificent opera house that was built in the eighteenth century in the Residenz, the main palace of the Wittelsbach dynasty. It is considered the most beautiful Rococo theater in Europe.
The Opera House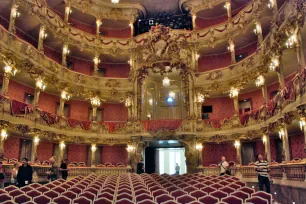 In 1750, after a fire destroyed a wing in the Residenz, duke Maximilian Joseph III of Bavaria commissioned architect François de Cuvilliés the Elder with the construction of a new opera house. Construction of the new theater started the following year, and it opened just two years later, in 1753.
De Cuvilliés designed a marvelous Rococo theater with a lavish interior consisting of elaborately carved balconies and ornate decorations. The architect was assisted by Johann Baptist Zimmermann, who was responsible for the ceiling painting and the stucco decorations, and Johann Baptist Straub, who created the sculptural decorations.
The theater has four tiers, reflecting the hierarchy of the aristocracy, with the higher nobility sitting in the most richly decorated tier. At the center, opposite the stage, is a magnificently sculpted royal loggia, occupying two tiers.
François de Cuvilliés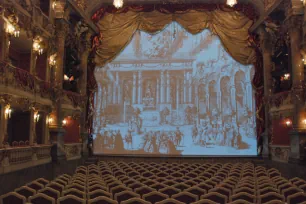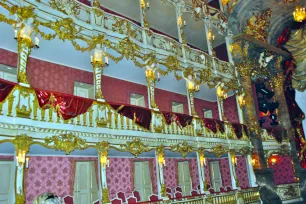 François de Cuvilliés the Elder is now known as one of the greatest Rococo architects in history, but when he first arrived at the court of elector Maximilian Joseph II, his future didn't look so bright. He was so small in stature that he started out as a court dwarf. Fortunately, Maximilian II recognized his other talents, and de Cuvilliés was soon sent to Paris where he was trained by Jacques-François Blondel, a French architect. De Cuvilliés the Elder and his son François de Cuvilliés the Younger designed some of Europe's most beautiful Rococo buildings.
Saved from Destruction
The Residenz Palace was severely damaged by allied bombings during World War II. Fortunately, in early 1945 Tino Walz, a young Swiss architect, convinced the authorities to store away some of Munich's historic treasures, including the wooden interior of the Cuvilliés Theater. After the war, in 1956-1958, the theater was rebuilt at a different location in the Residenz, near the Apothekenhof. The original wooden parts of the interior were carefully placed back into position. The theater was renovated in the early twenty-first century and reopened in June 2008 with a performance of Mozart's Idomeneo, an opera that premiered here in 1781.