This public bath house in Munich was once known as the grandest in Germany. It is best known for its magnificent Art Nouveau interior.
Building the Baths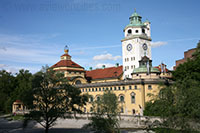 Müllersches Volksbad
The turn-of-the-century bath house known as Müllersches Volksbad – translated as Mueller's Public Baths – was made possible by a generous donation by the man for whom the pool is named. Carl Mueller, a Munich engineer, provided for the construction of this remarkable building by bequeathing five houses to the city, which boasted a combined value of about 1.8 million gold marks. Mueller's only stipulation was that the money be used to build an attractive swimming pool that could be enjoyed by the citizens of Munich. The city government abided by his wishes.
Architecture and Décor
Karl Hocheder was chosen as the architect for this project and watched his design come to life during the years 1897-1901. This amazing building is really a mix of a number of different styles. South German Baroque architecture tends to dominate though the keen eye will also recognize Roman thematic elements as well as Art Nouveau components on the exterior of the building.
Inside, the Art Nouveau décor is magnificent and has stood the test of time. It's easy to see why this spectacular pool was lauded as the grandest and most modern of all baths in Germany.
Despite its excellent condition, Müllersches Volksbad was recently renovated and updated, and guests will now find a "gentleman's" pool, a "ladies" pool, showers, individual baths, a Finnish sauna, and steam baths. Unfortunately, during the renovations, they did away with the Zamperlbad, a "doggy" bath that was located in the basement!
Visiting Müllersches Volksbad
Müllersches Volksbad is open seven days a week and a swim can be enjoyed for a minimal fee. You can also purchase a combination ticket, which will allow you to enjoy swimming and a sauna as well. The baths are easily accessible via the S-Bahn to Isartor or Rosenheimer Platz.