Established in 1807 by decree issued by Maximilian I, Viktualienmarkt (literally, victuals market) was built to replace a much smaller market that had once served the needs of the burgeoning city of Munich.
About the market

The small central market at Marienplatz was once the center of activity in Munich. However, as the city continued to grow in the early nineteenth century, the need arose for a larger market where residents could purchase the food items they needed for daily life.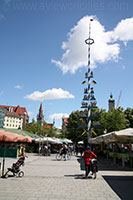 Viktualienmarkt
King Maximilian decided that the market should be moved a few meters to the southeast, so the buildings of the charitable Heiliggeist hospice were demolished, and the market was constructed. Originally, the new market was called Marktplatz and later Viktualienmarkt. Victual is the Latin word for food.
By 1823, the market already required enlargement and throughout the next several decades, more and more halls were added when the need arose. Separate pavilions were included for fish markets, fowl and other meats, flowers, produce, and bakery items.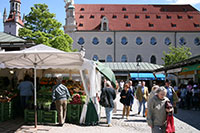 Market stalls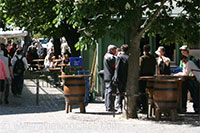 Food and beer stalls
Viktualienmarkt was severely damaged during World War II. Demolition was considered when the war ended but, instead, the city decided to save the market. Fountains and other new elements were added to spruce up the area.
Today's Viktualienmarkt
The modern Viktualienmarkt is now a favorite with gourmets. The popular and lively market boasts 140 shops and stalls that offer flowers and plants, vegetables, exotic fruit, venison and poultry, eggs, butter, honey, fish, meat and sausages.
The market has grown considerably in size since it was built in 1807, now occupying 22,000 square meters (about 5.5 acres). Viktualienmarkt is often the site of festivals and other special affairs, offering traditional and folkloric events, music and dance, and much more.