The Isar River, which flows through Munich and splits the city in half, provides visitors and locals with a variety of recreational opportunities.
About the River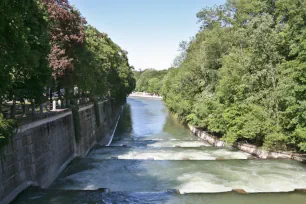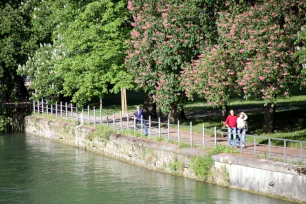 For Munich inhabitants, the Isar River is more than just a pretty sight. The river, whose waters flow from the Alpine region of Tirol in Austria, has long served as a major city attraction.
A number of popular pursuits take place on its waters or along its banks. Fishing in the River Isar is quite popular and overnight fishing packages are offered by outfitters in the area. Expect to catch graylings and other similar fish. (A license is required for all adults.)
Other fun activities include river rafting, but not the type that most people picture when they think about such an activity. This is not whitewater rafting, but rather merely floating down the gentle river on a wooden raft. These old-fashioned leisurely float trips take several hours and usually include a band, plenty of German food, and a bit of rambunctious behavior. (For example, you might want to bring a water gun, so you can squirt passers-by on the bridges above the river!)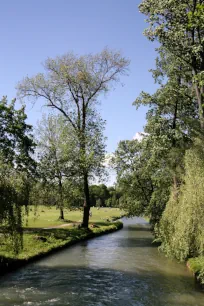 Sunbathing is also a common warm weather occurrence on the banks of the Isar River. But beware… nude sunbathing is allowed in certain areas and if you're not accustomed to this tradition, you may be in for an embarrassing moment or two.
Along some stretches of the river, you'll also find ideal spots for picnicking, and in designated areas, you can bring a barbecue grill and set it up near the water. In the summer, it can get pretty crowded on particularly pleasant days in the city.
River Surfing on the Eisbach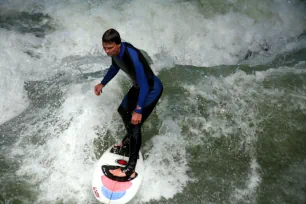 On a stretch of the river known as the Eisbach – a tributary of the Isar which runs directly through the Englischer Garten – avid surfers can practice their skills without ever leaving the city! Though Munich is hundreds upon hundreds of miles from any coastline, a "permanent" wave, produced as the river's waters shoot from an underground tunnel, allows for some pretty radical river surfing. The water comes out of the tunnel at about five meters per second, and only one person can surf at a time. Nevertheless, polite German surfers wait their turn to enjoy this awesome city activity. If you decide to give it a try, remember that the rocks and walls nearby add to the potential danger of surfing here and that the water is almost always cold.