When the Olymiapark was planned for the XXth Olympic Games in 1972, the designers had the long-term needs in mind. In contrary to many Olympic sites in other cities around the world, the different centers built for the Olympics are still used and the Olympiapark has become one of Munich's major tourist attractions.

The site contains an ice rink, an indoor pool, a residential district and student residences and of course the Olympic Stadium, which was the home of the main local soccer team, FC Bayern München until they moved to the futuristic Allianz arena in 2006. The Olympic stadium can seat 80,000 people and the Olympic hall 14,000.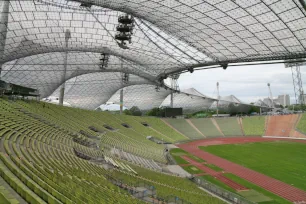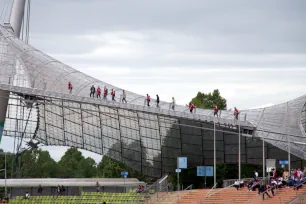 The adventurous can take part in a roof-climb, which consists of a tour on top of the roof covering the Olympic Stadium.
The Olympic site was built by Günther Behmisch, Frei Otto & Partners and became world-known mainly because of the futuristic tent-like roof construction. It covers the Olympic stadium, Olympiahall and the swimming pool. The roof covering the main stadium consists of a PVC-coated polyester fabric.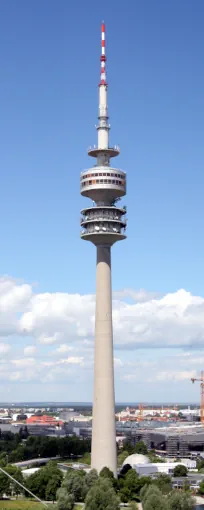 History
The three square kilometers (1 sq. mi.) large Olympic Park has now blended in with the city and is easily reachable via the U-bahn (underground). Situated close to the city center, it was built on a terrain used by the Bavarian army until 1925 when it became part of the Munich airport. After the Second World War in 1945, the rubble cleared from the city was moved here, forming the basis of the hilly landscape of the Olympiapark.
Olympiaturm
For a good overview of the Olympic site, you can either walk to the top of the 60 meter (197 ft.) high hill in the Olympiapark, the Olympiaberg or you can go take the elevator to the 189 and 192 meter-high platforms on the Olympiaturm, a 290-meter (951 ft.) high television tower. If you find it too windy on the platform, you can also have a view on the city of Munich from the revolving restaurant in the tower.