The rather bizarre-looking Allianz Arena is the pride of Munich football.
Construction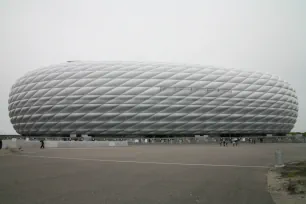 Named for a large German financial services provider, construction of the Allianz Arena began in 2002 on the northern edge of the borough of Schwabing and was completed in April 2005. Designed by Swiss architectural firm Herzog & de Meuron, the arena was built to replace the well-worn Munich Olympic Stadium, constructed for the 1972 Summer Olympics.
The round arena, which has earned the nickname "the inflatable boat", immediately catches the eye of the passerby and has become known worldwide for its unusual construction. That's because the facade of the arena is made of 2,874 ETFE-foil air panels that are kept inflated with dry air, making it look like a large white inner tube. ETFE (Ethylene Tetrafluoro Ethylene) is a polymer/plastic that can withstand a large range of temperatures and is highly resistant to corrosion.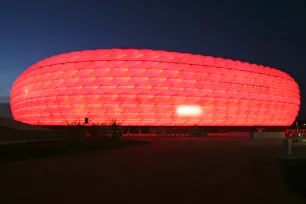 The panels appear white from far away but are actually dotted, which is apparent from close up. Incredibly, each and every panel can be independently lit with red, white, or blue lights, done so to indicate which team is playing at the time. (two professional football teams currently use the stadium as well as the German national team.)
The result is stunning, especially at night. The arena also boasts a roof with retractable roller blinds which may be drawn during a game to block sunlight, if necessary.
Other Specifics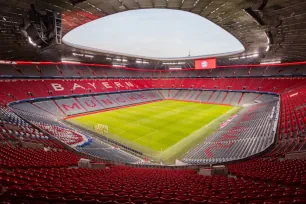 This unique arena can hold a crowd of nearly 70,000 spectators, though it was originally designed for a legal capacity of about 66,000. There are 22,000 seats on the upper tier, 24,000 in the middle, and about 20,000 on the bottom tier. The lower tier corners can be adapted to seat approximately 3,100 additional spectators.
Professional football clubs FC Bayern München and TSV 1860 München have played their home games at Allianz Arena since the start of the 2005/06 season, and the 2006 World Cup game was played at Allianz as well.
Spectators can take advantage of three on-site daycare centers, myriad fast food eateries and restaurants, and mega-stores that sell merchandise labeled with monograms of each of the teams that play at the arena. For those who don't have a good view of the 105m x 68m playing field, 190 monitors capture every minute of the game and offer a close-up look, no matter where you're sitting.