Built in the mid-nineteenth century, Munich's Siegestor (Victory Gate) has come to serve as a symbol for peace.
Building the Gate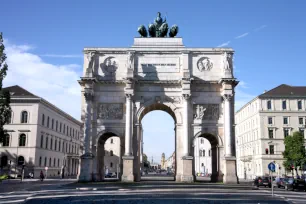 Commissioned by King Ludwig I of Bavaria, the Siegestor was designed by Friedrich von Gartner and constructed between 1843 and 1852. Situated at the terminus of the Ludwigstraße, the landmark was built to commemorate the bravery of the Bavarian army and its success in the Napoleonic War of liberation.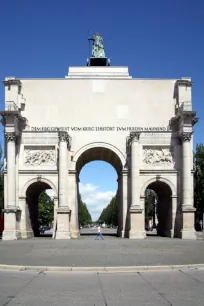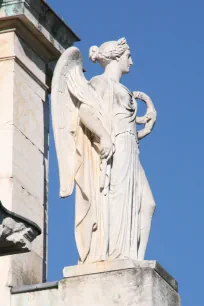 At the other end of the Ludwigstraße, at the Odeonsplatz, sits a similar monument, the Feldherrnhalle, which honors the leaders of the Bavarian army.
The Siegestor is built in the style of a triumphal arch, not unlike Paris's Arc de Triomphe or the Arch of Constantine in Rome, on which it was modeled.
This victory gate consists of three arches – a large one in the center and a smaller one on each side. The arch is decorated with winged statues – symbolizing victory – and bas-reliefs depicting battle scenes. Atop the arches sits a statue of Bavaria with a lion quadriga, designed by German sculptor Martin von Wagner.
After the War
Much of the Victory Gate was destroyed during World War II. It was reconstructed and partially rebuilt in the late 1950s. Recently, its statues were cleaned and restored as well.
The arch's biggest claim to fame has been the poignant inscription which was added to the structure when it was rebuilt after the war. The quote, by Wilhelm Hausenstein, reads "Dem Sieg geweiht, vom Krieg zerstört, zum Frieden mahnend", which, in English, means "Dedicated to victory, destroyed by war, reminding of peace".