Of Munich's original four main outer gates that gave entrance to the city during the Middle Ages, only three remain: the Karlstor, Isartor and Sendlinger Tor.
City Wall
During the Middle Ages, Altstadt, Munich's historic center, was protected by a city wall that featured four large towers as well as five smaller ones. The fortification was built between 1285 and 1347 and replaced a smaller inner city wall – known as the Innere Stadtmauer – that was built in the twelfth century. The new wall was known as the Äußere Stadtmauer (outer city wall).
During the eighteenth century, the population of Munich started to grow steadily, and the fortification hindered further expansion of the city. Thus Karl Theodor, Elector of Bavaria, decided in 1791 to tear down the wall encircling the city.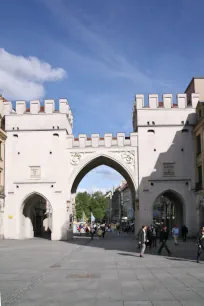 Karlstor
The Karlstor was originally known as the Neuhauser Tor, but was renamed in 1797 after Karl Theodor. The Elector created a new square near the Karlstor, officially known as Karlsplatz, but still often referred to as Stachus. The gate was integrated into the plans for the new square by adding wings to each side of the gate, creating a semicircular square.
The Karlstor originally had three towers, but the tallest, central tower was destroyed in 1857 when the gunpowder that was stored in the tower exploded. The two side towers were renovated in 1861 after a Neo-Gothic design by the Italian architect Domenico Zanetti.
Isartor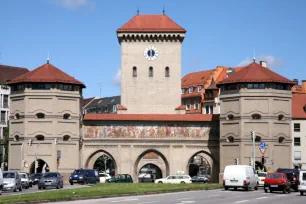 The Isartor is located just west of Marienplatz, at the end of what is known as the 'Tal' (valley). The street leading through the gate, Im Tal, was named as such because the road from the Old Town Hall towards the Isartor went downhill.
The central tower was built in 1337 and gave entrance to the Isar, the river flowing through Munich. The smaller, octagonal towers were only built later, in the early fifteenth century. The facade of the Isartor is decorated with murals depicting the triumphal procession of Louis the Bavarian (Ludwig IV) after this victory over the Austrians at the battle of Ampfing in 1322.
Sendlinger Tor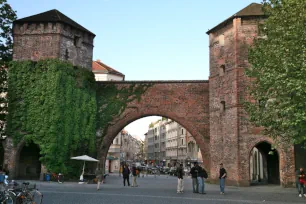 The oldest of the three remaining gates of Munich's outer city walls is the Sendlinger Tor. The gate was presumably built in 1318 and was the gateway for the trade route to Italy. The tall central tower was demolished in 1808 and in 1906 the three arches that connected the two outer towers were replaced by a single, large arch, enabling cars to pass through the gate. At the same time two smaller gates were created in the hexagonal towers for the pedestrians.
Schwabinger Tor
The Schwabinger Tor was built in 1391 near the current Odeonsplatz. Like many smaller towers that were part of the two city walls, it was demolished at the beginning of the nineteenth century to facilitate the expansion of the city. In 1844 the Feldherrnhalle was built at the site of the former gate.