Munich's magnificent Michaelskirche is the largest Renaissance church north of the Alps. It took fourteen years to complete the construction of the church, which was built by Duke Wilhelm V as a center for the Counter Reformation, in response to Luther's call to the Catholic Church for reform.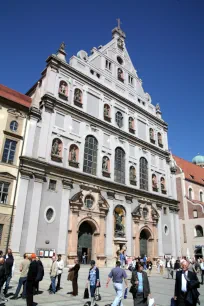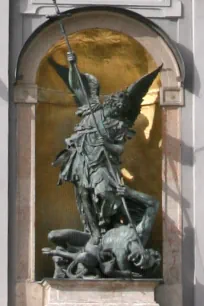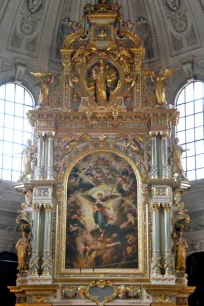 Architecture
St. Michael's Church was built in two stages. The first encompassed the years 1583-1588. Though the architect of the original church is unknown, the church was designed to be one of the largest and finest Jesuit churches in the world. This first phase involved a large barrel-vaulted roof, which was second only to the one at St. Peter's in Rome. The vaulting was so massive that locals feared it would collapse.
The vaulting never caused a problem but, in 1590, the tower collapsed, destroying the choir, which had just been completed. In response to the disaster, the duke decided that bad omens dictated a need for an even larger church, so he added to his original plans.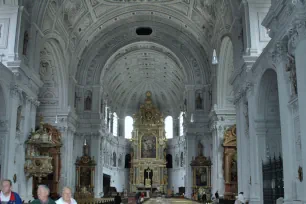 Shortly thereafter, construction began on the second phase of this colossal church, lasting until its completion in 1597. During this time, a new and grander choir was built as well as a transept, which was an addition to the original drawings.
A number of bronze statues grace the beautiful facade of the church, including a large statue of Michael the Archangel situated between the two main doors.
Michaelskirche was heavily damaged by bombing during World War II, but was restored and refurbished shortly after the war. Additional cosmetic work was completed in the 1980s.
Tombs
Nearly four dozen individuals are buried at Michaelskirche including Duke Wilhelm V himself. Many additional members of the royal Wittelsbach family are entombed here as well, including "Mad" King Ludwig II, Emperor Maximilian I, and King Otto of Bavaria.
Sculptor Giovanni da Bologna is also buried here, as is Eugène de Beauharnais, son of Josephine de Beauharnais (wife of Napoleon) and her first husband.