Munich's Hofgarten (Court Garden) is a peaceful garden that has long been an oasis in the middle of the city.
The Early Garden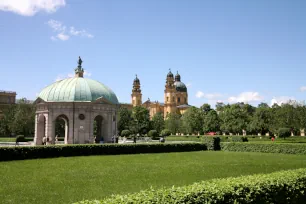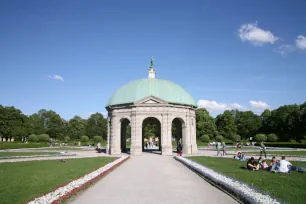 The creation of the Hofgarten, which originally lay outside the moat that surrounded the Residenz Palace, began in 1613 and was completed in 1617. At the same time, Duke Maximilian I was adding many new buildings to the palace complex.
The garden is formally laid out around two central footpaths that intersect at the Temple of Diana at the center of the garden.
Since its early days, the garden has been redesigned a number of times. When tastes or trends changed, so did the garden. After the devastation of the Second World War, landscape architects recreated the garden so that flower beds were once again typical of those found in the early seventeenth century. The original waterworks were also restored, providing the fountains with plenty of water.
The Temple
The focal point of the garden is the hofgartentemple, also known as the Temple of Diana. The pavilion was designed in 1615 by Heinrich Schön the Elder. There are eight arches on the pavilion, and from each arch radiates a footpath that serves to divide the garden into eight individual sections.
On top of the pavilion, there is a bronze statue entitled "Tellus Bavarica". The statue symbolizes the treasures of the Bavarian land – grain, game, water, and salt. It was designed by Hubert Gerhard in 1594 as a statue of Diana, goddess of the hunt. In 1923 the statue was remodeled by Hans Krumpper into the allegorical figure of Bavaria.
Buildings surrounding the garden
Bavarian State Chancellery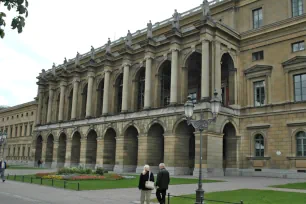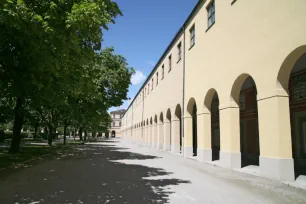 At the eastern end of the Hofgarten stands the Bayerische Staatskanzlei or Bavarian State Chancellery. After decades of dispute and several designs, the building was finally completed in 1992.
The central part of the building is the 32 meter (105 feet) high domed section of the former Army museum. Built in 1905 by Ludwig Mellinger this section was restored in 1982. A modern glass wing was built at each side of this central section, creating a 194 m. / 637 ft. long complex.
Festsaalbau
At the southern end, the Hofgarten is enclosed by the Festsaalbau (Banqueting Hall wing), Part of the Residenz complex. The monumental building was designed by Leo von Klenze and built between 1832 and 1842.
Adjacent to the Festsaalbau is another wing of the Residenz Palace, formerly home to the Museum of Egyptian Art. In 2013 the museum moved to the Kunstareal. Until 2007 an authentic Egyptian obelisk was located in front of the building.
Gallery
To the north, the Hofgarten is bounded by an arcaded art gallery, originally the precursor of today's Alte Pinakothek and Neue Pinakothek. The gallery is now home to both an Art Gallery and the German Theatre Museum.
Hofgartentor
The Basargebäude borders the western end of the Hofgarten. The adjacent Hofgartentor, an imposing gate designed by Leo von Klenze, gives access to the
Odeonsplatz
.