Located in Munich's museum quarter (Kunstareal), Alte Pinakothek houses a wonderful collection of works by the "Old Masters", covering the era from the 14th through the eighteenth century.
About the Building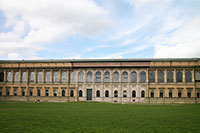 Alte Pinakothek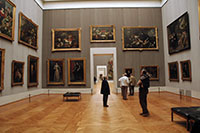 Gallery
The construction of the Alte Pinakothek (Old Pinacotheca) was ordered in 1826 by Ludwig I of Bavaria. It was intended to house the collection of major artwork owned by the Wittelsbach family, including large pieces such as Rubens' "Last Judgment", one of the most massive canvases ever painted.
For its time, the building that houses this art museum was considered quite modern. Based on an Italian Renaissance design by architect Leo von Klenze, it later served as a model for many museums throughout Germany and other European countries.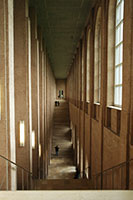 Corridor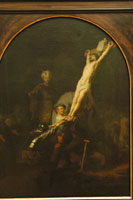 Deposition, Rembrandt
Young man with
black beret, Rubens
The museum closed in 1939 at the start of World War II and the collection was moved for safekeeping. The building was indeed extensively damaged during the war but was reconstructed by German architect Hans Döllgast and re-opened in the mid 1950s. Though the exterior still looks similar to Klenze's original, the interior – which had been very ornate – was not restored to its original grandeur. In addition, some of the holes in the exterior walls were replaced with bare brickwork in order to signify the "wounds" inflicted by the war.
The Collection
Under the supervision of the Bavarian State, Alte Pinakothek houses more than eight hundred works of art of the Early Italian, Old German, Old Dutch and Flemish schools as well as a few others. The collection, which was started by William IV in the early to mid 1500s, is heavy with art by certain favorites of the Wittelsbach family, especially Albrecht Dürer and Rubens. Some experts believe that the family omitted a number of important painters of the era but, nonetheless, the collection is one of the most impressive on the planet.
German paintings of the fourteenth through seventeenth century dominate and include works by not only Dürer but also Holbein, Altdorfer, Grunewald, von Aachen, and others. Dutch paintings from the fifteenth through eighteenth centuries feature pieces by Rembrandt, Bouts, Leyden, Bosch, Terborch, and several other notable Dutchmen.
Artists represented in Alte Pinakothek's Flemish collection include Pieter and Jan Brueghel, Memling, Peter Paul Rubens and van Dyck. (This museum has the largest Rubens collection in the world.). Pieces from the Italian School of the thirteenth through eighteenth century include artwork by Giotto, Botticelli, Rafael, Titian, da Vinci, and Tintoretto. There are also a handful of Spanish and French works showcasing the artistic talents of Poussin, Boucher, Lancret, Chardin, El Greco, de la Cruz, and Velazquez.