Designed by Italian architects, this stunning church brought a taste of Italy to Munich. It was built in the seventeenth century in celebration of the long-awaited birth of the new Prince, Max Emanuel.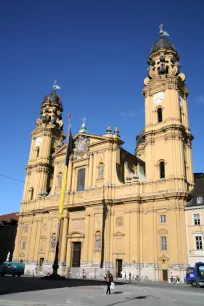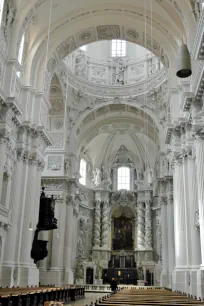 History and Architecture
The Elector Ferdinand and his wife Henriette Adelaide of Savoy ordered the construction of a church and monastery for the Italian Order of the Theatines of Munich to celebrate the birth of their long-awaited heir in 1662, Prince Max Emanuel. Hence the name Theatinerkirche (Theatine Church). Construction of the church started in 1663 and would last until 1690.
Everything about the church oozes Italian splendor. Designed in the high-Baroque style and modeled after Rome's Sant' Andrea della Valle, Theatinerkirche's architect was the Italian Agostino Barelli. In 1674 Barelli was replaced by another Italian, Enrico Zucalli, who was the individual responsible for completing the church's magnificent 71-meter-high (233 ft.) dome and for adding two 70-meter-tall towers that were originally not part of the plans.
The church received further ornamentation in 1738 when the father and son team of François de Cuvilliés and François de Cuvilliés the younger finished the facade in an ornate Rococo style. François de Cuvilliés was largely responsible for bringing the Rococo style to Germany, and the Theatinekirche is a prime example of their work. He also worked on the Nymphenburg Palace and Residenz Palace, both in Munich.
The yellow color of the church adds to its very Mediterranean feel, and the design in general is said to have had much influence on the Southern German Baroque style of architecture.
Interior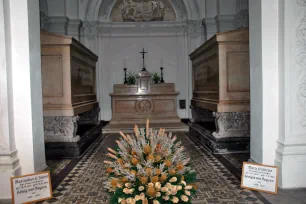 The inside of the church is made almost entirely of white stucco, giving it a very bright appearance and setting it apart from most other Munich churches. German sculptor Wolfgang Leutner was responsible for creating the statues, while Italian Nicolo Petri designed the stucco decorations for the interior. Numerous paintings by Caspar de Crayer, Carlo Cignani, George Desmarées and Joachim Sandrart can be found inside around the great black altar, which was designed by Andreas Faistenberger.
Tombs
A number of members of the Wittelsbach family are buried inside Theatinerkirche. A small chapel contains the remains of King Maximilian II (†1864) and his wife Marie of Prussia (†1889) while the crypt holds the remains of the prince for whom the church was built as well as his mother and father, several other electors of Bavaria and their families such as Charles VII, Holy Roman Emperor (†1745). The exiled King Otto of Greece (†1867) is also buried here.