Built in the mid-nineteenth century, the Ruhmeshalle, or Hall of Fame, was erected in order to honor famous Bavarians who have left their mark on the fields of politics, science, and the arts.
The Building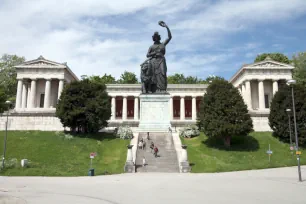 King Ludwig I of Bavaria, who reigned from 1843 to 1853, decided it would be appropriate to erect a grand building inside which he could place busts of celebrated Bavarians who had made a name for themselves both nationally and internationally.
Ludwig chose a site above the Theresienwiese (site of the famous Oktoberfest) for the location of the hall. The structure was designed by Leo von Klenze in Greco-Roman style and built between 1848 and 1853. It is built in an open U-shape, boasting three wings and fronted by 48 Ionic order columns.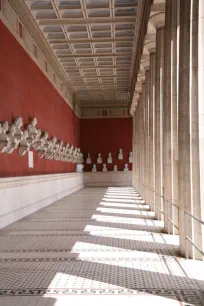 Many of the busts were destroyed during World War II and have been replaced by plaques rather than new statuary. However, the tradition of adding busts to the collection recommenced in 1966, so visitors can now enjoy viewing some more modern Bavarian notables when they enter the Ruhmeshalle.
The Statue
The large bronze statue that sits in front of the Ruhmeshalle represents the state of Bavaria and is simply referred to by locals as "Bavaria".
This statue of a female figure, Bavaria's "secular patron saint", was also commissioned by Ludwig I. It stands 18.52 meters (60 ft 9 in) tall and weighs about 87.36 tonnes (96.2 tons). It is so large that it had to be cast in individual sections and put together at the site.
The casting was done at the J.B. Stiglmair factory and most of the credit for the statue is awarded to the owner's nephew, Friedrich von Miller, though it was designed by sculptor Ludwig Schwanthaler. It is intended to be an allegoric personification of Bavaria's strength and glory, and is Germanic Romantic in style.
The statue isn't just your ordinary sculpture. Thanks to its size, visitors can ascend 66 steps to the top of Bavaria's head, where they'll enjoy an excellent view of Munich.