Munich's Alter Hof was the first residence of the Wittelsbach family, who ruled over Bavaria from 1198 until the end of the First World War in 1918. Only a small part of today's complex resembles the original thirteenth-century structure.
Wittelsbach Residence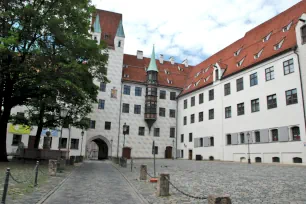 The Alter Hof was built in 1253-1255 on the foundations of an earlier fortified structure as the residence of duke Ludwig II. Despite standing just a stone's throw from the centrally located Marienplatz, the site was on the edge of the city, just inside the medieval city walls.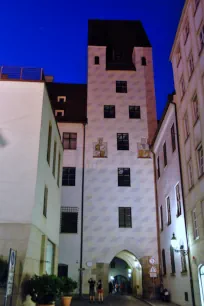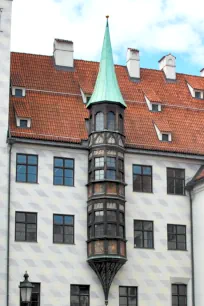 The Alter Hof became an imperial residence thanks to Ludwig IV – also known as Ludwig the Bavarian – who reigned as Holy Roman Emperor from 1328 until 1347. At the end of the fourteenth century, the Wittelsbach rulers moved to the newly completed Neuveste – at the site of the current Residenz Palace – where they felt better protected against potential uprisings. From then on, the Alter Hof was only used for administrative purposes.
Alter Hof Today
Little remains of the original court building since it was heavily damaged during the Second World War and only a couple of wings were reconstructed. Other wings were later rebuilt in a more modern design and house offices.
Burgstock
Alter Hof's west wing, the Burgstock, is the most picturesque surviving section. Coats of Arms are depicted on either side of the Burgstock's gate tower, including those of the dukes of Bavaria and the Imperial Eagle.
Monkey Tower
More crests are visible on the oriel window that protrudes from the Burgstock wing. This oriel window is known as the Monkey Tower. The peculiar name is the result of a legendary tale. According to the legend, the baby who would later become Emperor Ludwig IV was carried off by a monkey that belonged to the court. The monkey climbed to the top of the tower and stayed there for a long time before he was persuaded to come down, taking the baby with him unharmed.