The Friedensengel (Angel of Peace) is a monument built at the end of the nineteenth century to celebrate twenty-five years of Peace after the Franco-Prussian War ended in a victory for the German troops in 1871.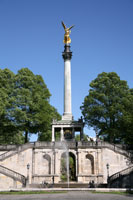 Friedensengel
Monument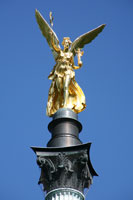 Friedensengel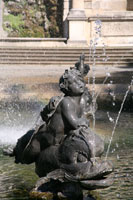 Detail of the fountain
The monument was designed in 1891 by Jacob Möhl, who created an elaborate structure with a fountain in front of a large terrace graced with a tall column and crowned with a gilded angelic statue. The monument was built in 1896 at a site on the Isar riverbank just north of the Maximilianeum. It wasn't unveiled until three years later, in 1899.
Angel of Peace
The focal point of the monument is the 25 meter (82ft) tall Corinthian column topped by a gilded bronze statue of the Angel of Peace. The figure is modeled after the statue of Nike – Goddess of Victory – that once crowned a column in front of the Temple of Zeus at Ancient Olympia. The statue was discovered by German archaeologists in 1875 and served as an example for several other statues such as on the on the Siegessäule in Berlin.
The Monument and Fountain
The column is set on top of a plinth which in turn rests on a platform supported by caryatids. Gilded mosaics beneath the platform show figures representing War, Piece, Victory and Culture. Portraits of the German Emperors Frederick I, William I and William III as well as those of Otto von Bismarck and generals of the German army that defeated the French during the Franco-Prussian War of 1870-1871 are depicted on the walls.
A double staircase leads to a fountain at the foot of the monument. The staircase contains three niches, the central one of which houses a sculpted grotto. The fountain is decorated with statues of putti sitting on water spouting sea creatures.