Karlsplatz – popularly known as Stachus – is a large square in the center of Munich. It was created in the late eighteenth century after the medieval city fortifications were torn down.
Karstor seen
from Karlsplatz
The square is officially named after elector Karl Theodor, but it is commonly known by Munichers as Stachus. The name originates from Eustachius Föderl, who in the eighteenth century opened the Stachusgarten, a popular inn and beer garden at the southwest side of the square.
Karlstor
In 1791 elector Karl Theodor ordered the demolition of the old city wall and bastions around Munich. This created space for new squares, one of which was laid out at the Neuhauser Tor, the most western of three city gates that were preserved. The fourteenth-century gate was later renamed Karlstor, after the Bavarian elector. Between 1899 and 1902 the Karlstor was integrated in the Rondell am Sacchus, a semicircular wing designed by the German architect Gabriel von Seidl.
Pedestrianization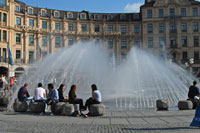 The fountain
Walking through the Karlstor brings you to Munich's main shopping axis along the Neuhauser Straße and Kaufinger Straße towards Marienplatz, a square that forms the heart of Munich. The current appearance of Karlsplatz is the result of a major renovation in 1972 when the shopping streets were pedestrianized. The square – at the time one of Europe's busiest traffic junctions – was also partially pedestrianized, and a large fountain was installed at its center.
During summertime it is a popular spot for visitors who want to take a break from shopping and sightseeing. During wintertime, the fountain is transformed into an ice skating rink.
Palace of Justice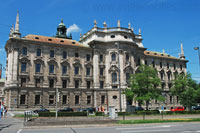 Justizpalast
The most prominent building at the Karlsplatz square is the Justizpalast or Palace of Justice, on the northwest side of the square. It was built between 1890 and 1897 after a neo-Baroque design by architect Friedrich von Thiersch. The main highlight of the rather imposing building is its large steel and glass dome, a novelty at the time.
Despite its size the building was soon found to be too small and in 1906-1908 von Thiersch built an expansion just north of the Justizpalast, this time a brick structure in neo-Gothic style.