Lenbachhaus is a nineteenth-century villa in Italianate style located in Munich's museum quarter. It is home to a very diverse art collection, including a large selection of works from the Blaue Reiter movement.
The Villa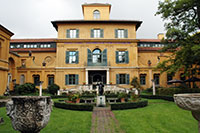 Lenbachhaus
Franz von Lenbach, a nineteenth-century German painter who was best known for his portraits, commissioned architect Gabriel von Seidl with the construction of his new residence. Following Lenbach's design, Von Seidl built a grand villa in Florentine style, which was constructed near Königsplatz between 1887 and 1891.
In 1924, twenty years after Lenbach's death, the city of Munich bought the villa with the intent to transform it into a gallery. For that purpose, a new north wing was built by Hans Grässel, a local architect. The gallery opened in 1926.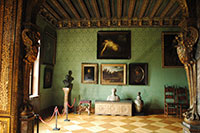 One of the villa's rooms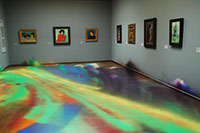 Gallery
In 1972, just in time for the Olympics held in Munich that same year, the museum was expanded with an additional west wing.
Art Collection
The museum's collection is quite diverse, with galleries displaying paintings from a wide range of styles, mostly by Munich artists from the nineteenth and twentieth centuries. The museum is best known for its large collection of paintings from the Blaue Reiter (Blue Rider), a group of expressionist artists from the early twentieth century. Gabriele Münter, the former partner of Wassily Kandinsky – one of the group's best known artists – donated her collection to the city in 1957. Contemporary art is also well represented, with works by artists such as Andy Warhol and Joseph Beuys.
Temporary exhibitions are regularly on display in the underground Kunstbau, where you can find works by promising contemporary artists.
The New Lenbachhaus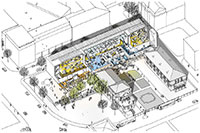 The new Lenbachhaus
© Foster + Partners
In 2009-2013, the museum was renovated and expanded by the architectural firm of Foster + Partners. Makeshift repairs of damage caused during WWII were corrected, and the historic residential building was renovated and adapted to better suit its current use as a gallery.
The wings along the Richard-Wagner Street were remodeled and modernized to increase gallery space, accommodate more visitors and enhance the overall experience. The museum's main entrance also moved from the garden to the adjacent square – the Museumsplatz – to improve the reception of the museum's visitors.